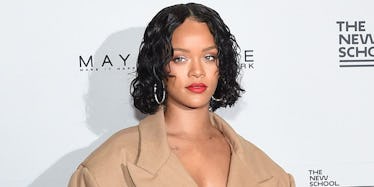 How Did Rihanna And Her Boyfriend Meet? Hassan Jameel Rumored To Be Her New Man
Jamie McCarthy/Getty Images
Looks like Rihanna has a serious new man in her life and fans are dying to figure out who.
After recent photos surfaced of Rihanna getting hot and heavy with a mystery dude in Spain, the world has been bursting at the seams to get the low-down on who he is and how they met. Drum roll, please.
According to the Daily Mail, Rihanna's boyfriend is reportedly Hassan Jameel, and he is rich AF. (Not that that matters, it's love that matters.) But still.
Elite Daily reached out to Rihanna's team to confirm the news, but did not hear back by time of publication.
According to Daily Mail, Jameel is set to inherit the entire Toyota empire.
Yup, that Toyota.
And in the meantime, he is the vice chairman of family company, Abdul Latif Jameel. Oh, and Forbes Middle East says his fam is worth right around $1.5 billion dollars.
Super chill. Super cool.
So, here's the story I invented in my head about how they met:
It's a hot blistering day in Los Angeles and Rihanna is all, "I'm rich. I should buy a new car for funsies." And she's walking around thinking, "I've been there, I've done that," about Mercedes, Ferraris and other expensive cars I don't know the names of because I'm not rich... which leads her to a Toyota dealership.
Jameel is in town because he is a serious businessman who takes meetings in different countries all the time, and he happens to spill his coffee onto Rihanna.
Then, after an awkward exchange involving old-timey handkerchiefs and a Tide-To-Go pen, they exchange numbers because Jameel says he'll buy her a new outfit and also an island to make up for it.
Of course, we don't actually know the specifics yet, but we do know it's the real deal. A source close to Rihanna told Daily Mail,
This relationship is the real deal. Rihanna has told friends she's in love with him and seems completely smitten. They've been spending a lot of time together away from prying eyes and are really serious. They're really enjoying each others' company.
I'd be smitten with that money – I MEAN FACE – too.
Congrats, Rihanna! Please for the love of God keep us posted.