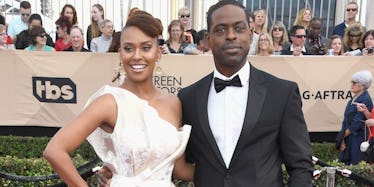 Photos Of Sterling K. Brown And His Wife Prove They're So In Love
Frazer Harrison/Getty Images
This Is Us star Sterling K. Brown and his wife are real-life relationship goals. Brown is currently enjoying the ride of his life professionally, but it looks like his personal life is pretty damn amazing, too. Look no further than all the photos of Sterling K. Brown and his wife.
Brown and his wife, Ryan Michelle Bathe, look like they're so in love and supportive of each others' careers. Their story starts way back when they were both freshmen at Stanford University – they lived in the same dorm and starred in a play together. Anyone else getting a hint that destiny may have played a part?
If that doesn't seem cosmic enough, consider this: Brown revealed more about their relationship to Entertainment Tonight earlier this year, explaining: "The multitude of ups and downs that we went through before we finally got together and figured it out. [We] have been together solid since April 2004, [but] all the stuff that happened before that, it's a good movie."
He added: "We went to undergrad together, we went to grad school together, we were born in St. Louis, Missouri, and even more impressive, we were born in the same hospital."
Still not convinced about their destiny? Brown noted, "Crazier than that, our social security numbers are only three digits apart. Like, it's crazy!" So. Trippy.
Given their paths to stardom, however, it wasn't always easy for the couple... most notably, they broke up multiple times and didn't even talk for three years! When Bathe moved to Los Angeles, the couple got back together and made a go at a long-distance relationship.
Clearly, they are soulmates, if they went through all of that and still landed on their feet together. They've now been married for 11 years and have two sons. They've even shared time on-screen in the Lifetime series Army Wives and Bathe appears on This Is Us as well.
Check out some of the sweet photos of the American Crime Story: The People vs. O.J. Simpson Emmy winner and his beautiful wife. Ah, love.
The sweetest caption (and adoring stares at each other): "At the big dance with my love. You deserve all of this Sterling Brown!" Did you heart just melt? Mine did.
Aw. Brown's loving message to his wife and the pics? He captioned the photos: "Don't know what I'd do without you, Bird. Love ya lots! @ryanmichelleb #blacklove #11yearslater." I can't handle the cute with these two.
And, oh that family! The kids are clearly trying to impress mom and dad... I think they succeeded. Maybe there's a Hollywood career ahead for these two?
And this wife appreciation post is everything, as Brown captions the pic of his beautiful bride: "@ryanmichelleb is about to shut the game down!!! #thisismywife #thisisus #naacpimageawards."
These two = goals on goals on goals. 
Respect! Check out this sweet caption: "Ready for the @goldenglobes with the hottest chick in the game @ryanmichelleb."
And how about when this happened? Brown was super supportive of his wife totally crushing on Justin Timberlake, captioning the pic: "@ryanmichelleb just freaked the ____ out when she got to meet @justintimberlake at the #BAFTATea party! Thanks for being a good sport, bruh."
This smoochy Insta pic includes Brown's gratitude to so many for his Golden Globe nomination, with, of course, some love for his amazing wife and family. It reads, in part: "In recognition that no one gets to this place in their career by themselves, I have to first thank my wife and two children for giving me such a clear purpose for being. Ryan, Andrew, Amaré... you guys make this all worthwhile!"
Tune in to the Emmys, hosted by Stephen Colbert, this Sunday, Sept. 17 at 8 ET/5PT on CBS.
Check out the entire Gen Why series and other videos on Facebook and the Bustle app across Apple TV, Roku, and Amazon Fire TV.