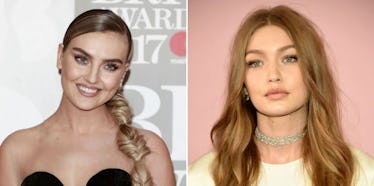 Fans Think Zayn Malik's Ex Shaded Gigi Hadid With This Lyric Change
John Phillips/Getty Images and Dimitrios Kambouris/Getty Images
Do you guys know about the girl group Little Mix? Did you know Zayn Malik's ex-girlfriend Perrie is, like, super hot and talented and fun? Did you guys know she has a song called "Shout Out To My Ex?" If you didn't, now ya do. Fans are also speculating Perrie Edwards shaded Gigi Hadid with a lyric change at a recent concert in New Zealand, and TBH, the jury is still out.
The song "Shout Out To My Ex" is a super delightful girl-power romp, and also my new fave breakup anthem. The lyrics also all point to Zayn, as they reference a four year relationship, which is how long he and Edwards were together, and tattoos, which he has. In the first few seconds of the song, Edwards sings the lyrics,
I hope she gettin' better sex / Hope she ain't fakin' it like I did, babe... 
Ready for the plot twist? Over the weekend, fans are saying Edward tweaked these lines into something a little more, um, direct at her New Zealand concert.
Rather than singing "faking it like I did," fans say they heard Edwards sing, "faking it like Hadid." As in, Gigi Hadid. Ya know the one I'm talking about... Zayn's new, serious girlfriend.
Here, you tell me...
I don't know. I don't know. I don't know.
I probably wouldn't draw the conclusion on my own, but the way Edwards looks at her bandmate in surprise and the two giggle immediately following the lyric is certainly suspect. Some fans say Edwards' voice cracked while singing, though, and that's why they're laughing.
One fan slowed it down to see if we could make out the lyric-swap more clearly, but between you and me I think it makes it harder to hear.
Still, whether Edwards meant to throw the shade or not, we know she is over Malik. How do we know? Oh, just her new smoking hot, English-football player boyfriend, Alex Oxlaide-Chamberlain. The two have been seeing each other since January 2017.
Shout out to her ex.