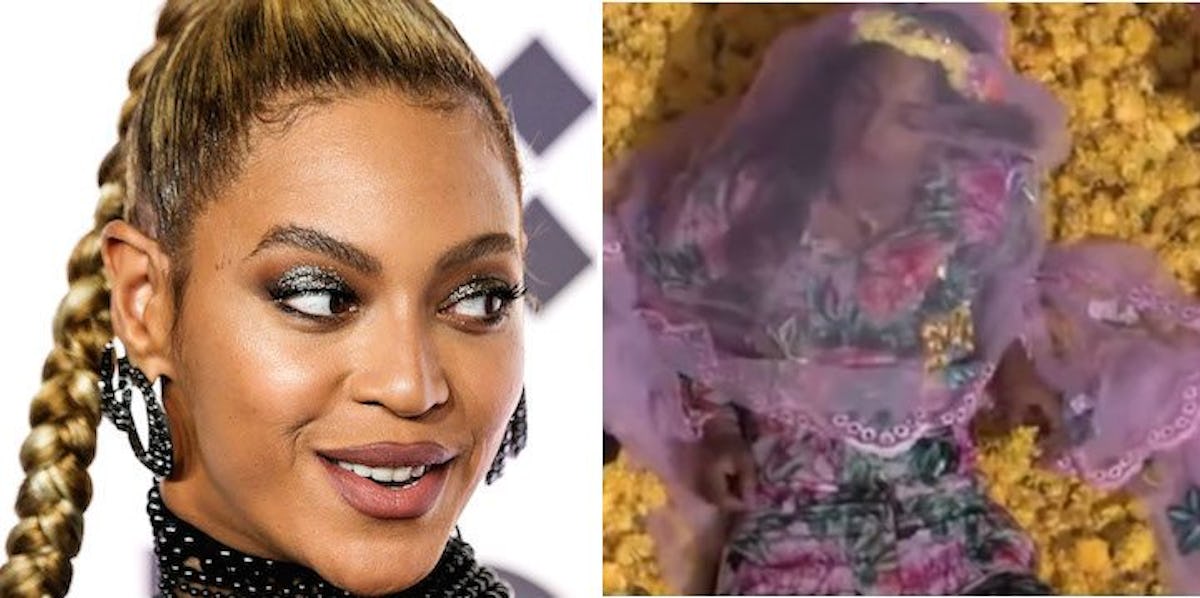 People Think Beyoncé Stole Rapper MIA's Look For Her Pregnancy Photo Shoot
REX/Shutterstock/YouTube
There's beef between Sri Lankan rapper MIA and Beyoncé again.
Fans of the rapper have noticed similarities between Beyoncé's most recent photo shoot and teasers for the rapper's upcoming video for her new track "POWA."
On February 1, Beyoncé shared a picture to Instagram to announce her pregnancy, which broke a record for the most likes, a title previously held by Selena Gomez.
In the photo, Beyoncé is seen wearing nothing but lingerie and a green veil, which is draped over her and a pile of flowers, and apparently she is on top of a car.
Just hours later, MIA posted a video to Instagram of her on top of a pile of flowers in a car, wearing a flower-patterned co-ord and a pink veil.
Fans were quick to comment on the star's post, noting the obvious similarities between the two photographs.
One of the commenters wrote, "Look beyonce stole this from MIA lol." Another replied, "Hey Beyoncé @beyonce BITCH YOU STOLE."
The comment section is getting pretty heated, and most accuse Beyoncé of stealing, even though MIA's Instagram post came after the pregnancy announcement.
The rapper helped add fuel to the fire with the caption,
POWA some people love it sooooo much they'll do anything for it.
What the commenters perhaps failed to realize is both Beyoncé and MIA may have simply been inspired by the same centuries-old idea: Virgin of Guadalupe.
So unless fans want to implicate both artists in stealing the work of Miguel Sánchez, the Mexican priest from the mid 1600s who first publicized this image, their accusations could be baseless.
This is not the first time MIA has thrown shade at Beyoncé for copping her style, though. Back in November, the rapper told Q Magazine,
I'm fine with Madonna or Beyoncé or Rihanna being inspired by my work, but I would like them to then go, 'Yeah, this immigrant who came out of nowhere influenced us, so maybe not all of them are fucking terrible.' They don't even think like that. They go 'Yeah, maybe me stealing the stuff says she's all right. She should be thankful we're stealing it.' But sometimes you just think, 'Fuck , I have to pay some bills,' you know?
Well for one, Rihanna is also an immigrant.
Two, I'm not sure whose music she is listening to, especially considering all of the mentioned artists are very in touch with their ethnic roots -- do you also have a "negro nose with Jackson 5 nostrils," MIA?
Anyway, here's some music to compare for yourself.
Citations: Did Beyonce steal the look for her maternity photoshoot from MIA? Fans seem to think so Read more: http://metro.co.uk/2017/02/03/did-beyonce-steal-the-look-for-her-maternity-photoshoot-from-mia-fans-seem-to-think-so-6424402/#ixzz4Xe382Cog (Metro)