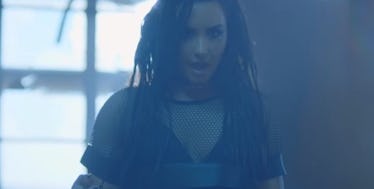 People Are Pissed At Demi Lovato For Wearing Dreadlocks In New Music Video
YouTube
Selena Gomez released new music today (and it's incredible, go listen), but interestingly enough, people are all fired up over a different song from another pop star who got her start on Barney & Friends.
On Wednesday, Cheat Codes released their music video for "No Promises" featuring Demi Lovato, and some people aren't too pleased.
Mainly, people are pissed at Demi Lovato's hairstyle choice in the video.
It's difficult to tell because the shots are all so dark and the images move quickly, but Lovato, who co-wrote the song, has her hair twisted up in a style that looks a lot like dreadlocks.
Of course, it didn't take long for Twitter to cry "cultural appropriation."
Many are convinced it's not actually dreads, though.
Still others just want everyone to chill the eff out.
This isn't the first time the 24-year-old has faced backlash for what the internet deemed cultural insensitivity.
In February, the Confident singer came under attack after posting about her ancestry in a series of tweets in which she announced she was 1 percent African.
Lovato ended up responding to that drama by tweeting she was simply posting all her DNA results and "didn't meant to offend anyone."
She also took it a step further, tweeting,
Just thought it was cool and totally random. Some of ya'll are mean af. Twitter sucks.
She isn't wrong about Twitter being mean.
Lovato has yet to respond to the latest round of criticism, but we do know she's not usually one to keep quiet.
It does seem like the girl can't catch a break these days.
Last month, she got a lion tattooed on her hand, sending fans into a massive freakout because it's the same tattoo Justin Bieber and Cara Delevingne have.
The singer also split with her boyfriend Guilherme "Bomba" Vasconcelos recently.
Yeeeeshhhh. That's a rough couple months.
Citations: Demi Lovato is Getting Dragged on the Internet for Wearing Dreads in New Music Video (People)