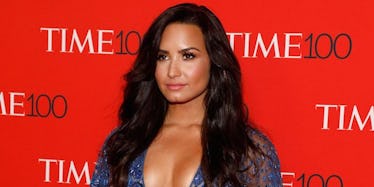 Demi Lovato Got A Giant New Lion Tattoo And Fans Are Calling Her Out For It
Getty Images
Demi Lovato got a new tattoo, guys, and it's pretty freaking intense.
The singer was in NYC this week for the Time 100 Gala. And when the gala was over, she headed over to Bang Bang NYC — a popular tattoo parlor (is that what we're still calling them... ?) that's a favorite among celebrities — for some new ink.
If you don't know who Bang Bang is, that's OK. You've definitely already seen his work.
He's responsible for Rihanna's camo shark she got before she and Drake broke up. (Literally, the most RIP out of all RIPs.)
Bang Bang (aka Keith McCurdy) is also the artist behind a lot of Cara Delevingne's tattoos, like this eery pair of eyes she has on the back of her neck.
Cara's possibly most well known tattoo is that of a lion on the pointer finger of her right hand, and yup, Bang Bang did that, too.
But this is about Demi's new Bang Bang tattoo, right? Right. Here it is!
LMAO, what? That is literally the same tattoo Cara Delevingne has.
LITERALLY. THE SAME.
Bang Bang, dude, WTF?
BUT WAIT! THERE'S MORE! Guess who else has this same exact tattoo done by Bang Bang himself...
Justin. Freaking. Bieber.
WHAT IS IT WITH CELEBRITIES AND LIONS? I seriously don't get it. These three tattoos are literally all the same (with the exception of the crown on Justin Bieber's lion, because of course he added a crown).
And I'm not the only one who noticed the matching tattoos. Demi's fans have been expressing their disapproval of the new ink.
(Also, can we please just make a quick note about how fucking COMMITTED you have to be to get a giant tattoo on your literal ENTIRE HAND?)
Bang Bang posted a screenshot of Demi's Snapchat on his Instagram last night, and Lovatics are not amused.
Some like it, though!
Personally, I think Demi is badass for getting a lion on her entire hand. That's some next-level Rihanna shit. Sure, it looks exactly like Cara's, but who cares? Life is a flat circle anyway. Nothing matters!!!
The only plausible connection I get out of this is Demi Lovato, Cara Delevingne and Justin Bieber are all huge Aslan fans from the "The Chronicles of Narnia," to which I say: word.
(One last note before we go: It has taken every ounce of energy I have in my body to not make a joke about the fact Justin Bieber, with his lion and bear tattoos on his chest, is one fucking tiger away from being a walking billboard for "The Wizard of Oz." WORSHIP ME AND MY SELF-CONTROL.)