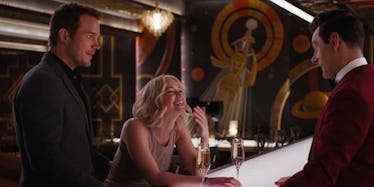 'Passengers' Bloopers Prove J Law And Chris Pratt Are The Best Co-Stars Ever
Columbia Pictures
I don't care what the reviews say: That movie "Passengers" was worth every penny of its budget if only because of the ample footage it gave us of Jennifer Lawrence and Chris Pratt laughing at each other.
Between that delightful press tour and this new blooper reel, I really feel like I've gotten more entertainment out of this film than most. It should be noted that I have not actually seen "Passengers."
But I did watch this bloopers clip and had a lot of fun while doing it.
There's just so many great moments in these bloopers.
Like when Jennifer Lawrence laughs while they're filming that scene at the bar.
Or when she laughs when they're filming that other scene at the bar.
Starting to think there are a lot of bar scenes in this film.
Or when she laughs while they're filming this scene...
(To be perfectly honest, I have no idea how to go about describing the location of this scene.)
... And drags Chris Pratt down with her.
Or when Chris Pratt bangs the piano super hard, and Jennifer Lawrence dissolves into hysterics.
Other highlights that don't involve J Law laughing include...
Chris Pratt giving his screen test for "Thor 4."
J Law pulling this face.
J Law pulling this face.
Chris Pratt winking at the camera and melting all of hearts.
And finally, J Law's critique of the costuming.
She says,
If Jennifer were rescuing somebody, I'd put on this outfit and be like, 'Never mind.' You didn't feel like you had a good chance, right?
So overall, a pretty solid blooper reel, right?
Let's just take a moment to remember that glorious press tour, too. I mean, the prank wars? The playful interview banter? The hilarious insults to Chris Pratt's sexing abilities?
Honestly, what more do you want from a film?
Citations: Jennifer Lawrence And Chris Pratt's "Passengers" Blooper Reel Is Pure Delight (BuzzFeed)