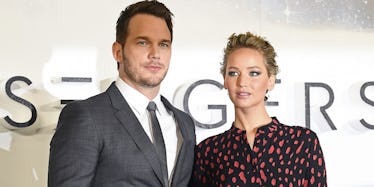 J Law Hilariously Trolled Chris Pratt During An Interview With One Question
REUTERS
As you may already know, actor Chris Pratt is happily married to Anna Faris...
That's not stopping him from gushing over his "Passengers" co-star Jennifer Lawrence, though! The 37-year-old actor recently appeared on "Good Morning America" to promote their new film along with J Law.
Let's just say Pratt was hit with a pretty hard question that exposed how he really feels about the 26-year-old actress!
According to Entertainment Tonight, GMA host Michael Strahan had spoken to Lawrence prior to Chris Pratt's appearance on the show and asked her to pose this burning question:
What's your favorite part about me?
With just this one question, things got super awkward.
Pratt answered, saying,
Well, thankfully, thankfully, she's beautiful on the inside.
Well, that seems like a valid answer, right? As far as Strahan and his "GMA" co-anchors go, Chris' answer wasn't nearly enough. I agree -- we need more and we need it now!
Strahan admitted,
I don't think that's what she was asking.
That's when things really got interesting. Pratt could no longer beat around the bush. He had to tell the world how he REALLY feels about Jennifer Lawrence. The man is married, people! This could get messy...
Finally, the actor and father-of-one let it all out, revealing,
Honestly, her sense of humor. She's really, really funny. She rolls with the punches. She's genuinely hilarious. We laughed every day, all day making this movie. She's an Oscar award-winning actor. I feel like I learned a lot from her.
Phew! That was close. Anymore truth-telling and he might say something he'll regret later. It's safe to say Jennifer Lawrence, Michael Strahan and the rest of the "GMA" crew are the ultimate trolls of the week.
Speaking of Chris Pratt and smokin' hot Hollywood actresses, Pratt sat down with Sway Calloway on SiriusXM's #SwayInTheMorning this week to chat about how he and his wife cope with their having to do sex scenes with other people in the industry.
When asked about how Anna Faris deals with him having to act out sex scenes with other women, Pratt answered,
In that regard, I really got lucky. And it's been that way for Anna and I for the 10 years that we've been together. I mean, we have an understanding of what we do is for a living. And I think that if I was married to somebody who was, like, a school teacher or had a different job, maybe it'd be a little harder for them to comprehend what exactly goes down or the sacrifices you have to make…
Perfect! This means Anna will likely have no issue with her husband's answer to J Law's tough question on "GMA." After all, she has to know that these interviews sometimes turn into troll parties...
This must have been revenge for all of those hilarious selfies Pratt has been trolling Lawrence with on Instagram.
Got 'em!
"Passengers," starring Jennifer Lawrence and Chris Pratt, hits theaters on December 21.
Citations: Jennifer Lawrence Makes Interview Awkward for Chris Pratt With Just One Question (Entertainment Tonight)