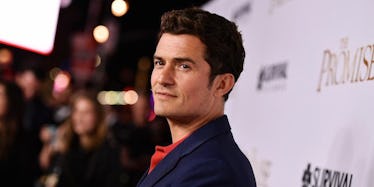 Orlando Bloom Has Apparently Already Moved On From Katy Perry To Another Celeb
REX/Shutterstock
We should've known Orlando Bloom would have no trouble finding another major celebrity to date after his breakup with Katy Perry.
A little over a month after his high-profile split from Katy, it sounds like things are now heating up between Orlando and "Vampire Diaries" star Nina Dobrev.
A source told People over the weekend that Orlando and Nina are seeing each other, but it's nothing serious yet.
They've known each other for a while. Recently they've been hanging out as more than friends. It's super casual.
Last week, the rumored lovebirds were photographed together at the premiere of the new historical drama "The Promise," and People's source goes on to say that they're currently partying together at Coachella.
But don't expect Orlando and Nina to get all romantic in public anytime soon. The source stresses that the two are not exclusive and keeping things incredibly casual right now, so much so that Nina had no problem with Orlando reportedly showing some affection for a model at a Coachella party just a few feet away from her.
Apparently, Orlando isn't ready for another committed relationship right now and is just looking to have some fun dating around. He and Nina have known each other for several years now — they posed for a photo together on Nina's Instagram back in 2014.
So, it looks like we may have a hot new celeb couple... or we may not. After People's story broke, the debunking site GossipCop shot down the dating rumors and stated that their source close to Nina Dobrev is reporting that she and Orlando are not dating.
The site points out that Orlando and Nina share a manager, Aleen Keshishian, which is why they were photographed together alongside Keshishian at "The Promise" premiere.
Also, Nina Dobrev is rumored to be dating "Scream Queens" star Glen Powell right now. Was that rumor false, or has she moved on to Orlando? What's going on!?
We'll just have to be sure to keep our eyes on Orlando and Nina to see if these dating rumors are true or not!
Citations: Nina Dobrev and Orlando Bloom Are Hanging Out Romantically but It's 'Super Casual,' Says Source (People)