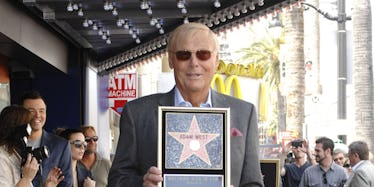 Original Batman Adam West Has Died At 88 & We Owe Him So Much
Shutterstock
Adam West, the first actor to play our beloved Bruce Wayne, has died at 88 after a short battle with leukemia.
The family of the original Batman took to Facebook to share the news of his passing on June 9. An excerpt from the post reads,
He was a beloved father, husband, grandfather, and great-grandfather. There are no words to describe how much we'll miss him. We know you'll miss him too and we want you to know how much your love and support meant to him throughout the years.
Before Michael Keaton, Christian Bale, and Ben Affleck, West was the Dark Knight who kickstarted our love for superheroes with the '60s Batman TV series. The show lasted for three seasons and ran for 120 episodes. After the series had ended, West wound up on the big screen with the 1966 adaptation of the comic.
Though millennials are so accustomed to Christopher Nolan's Dark Knight trilogy, it was West who got the Batman ball rolling decades before, and we have to give him credit for bringing a classic comic book character to life.
According to an article from The Daily Express several years ago, West opened up about the impact of his character. In the interview, he said,
My Batman has endured because it had something for everyone. When you were a kid you could enjoy all the adventure, the color, the crazy costumes, the wonderful villains. Then as you got a little bit older you saw the satirical elements, the bizarre stuff.
Nowadays, it appears the film adaptation of comics are truly trying to provide "something for everyone."
Wonder Woman, the first feature film for the DC character and the first-ever female-directed superhero movie, has been absolutely killing it at the box office, proving women can be just as kickass and entertaining as their male counterparts.
Fans already can't wait for the arrival of Black Panther, which is set for a February 2018 release. The film's first trailer debuted during the NBA Finals on June 9, and people are eagerly awaiting the first black action hero since Hancock. 
Regardless of race or gender, we fell in love with the idea of a crime-fighting superhero to look up to thanks to West's portrayal of the Batman character, and for that we must thank him.