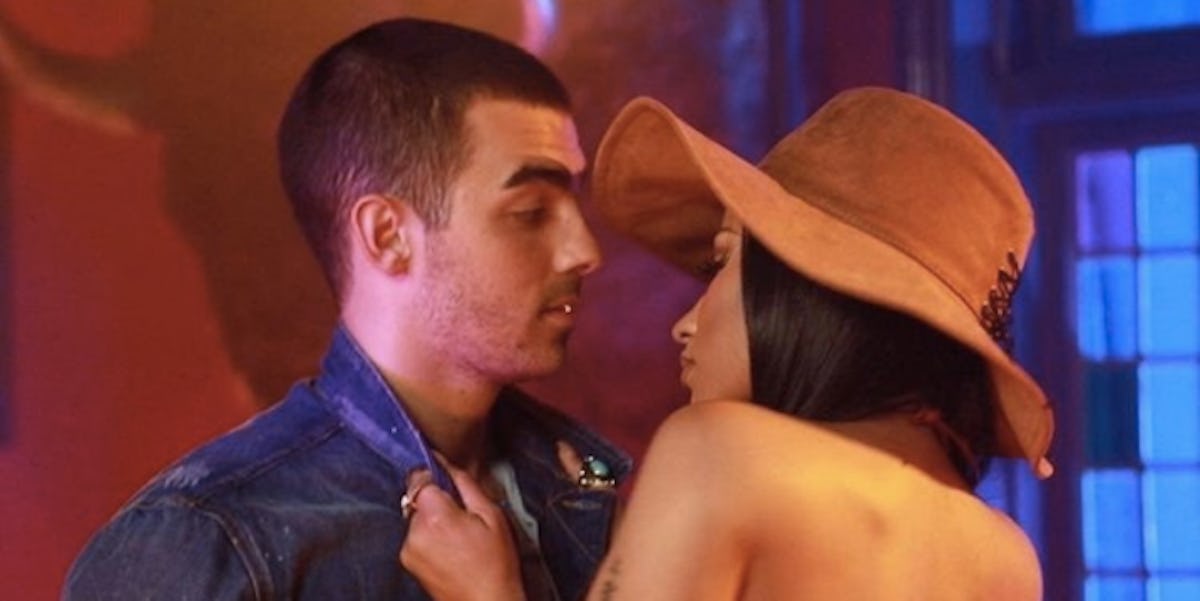 People Think This Picture Means Nicki Minaj And Joe Jonas Are Hooking Up
Instagram
Are you ready for one of the strangest celebrity pairings since Mila Kunis and Macaulay Culkin?
Joe Jonas and Nicki Minaj both posted a steamy photo of themselves about to lock lips, and everyone is freaking out.
Nicki posted the photo of herself grabbing Joe Jonas by the collar and pulling him toward her as he looks a bit surprised, writing that she "roughed him up a lil bit." Wow!
Fans immediately started reacting to the intimate photo, posting their shock and piqued interest in the unexpected but steamy new pairing. Nicki even retweeted a bunch of the reaction tweets that she found funny.
Of course, it's clear the pic is actually a still from a music video, and although we might get to see Nicki and Joe smooch it up when their collaboration comes out this Friday, that relationship will most likely just be for the camera.
Nicki may be single again after breaking up with Meek Mill at the start of 2017, but Joe Jonas is still dating Sophie Turner.
The photo is teasing the release of Nicki Minaj's collab with Joe's band DNCE, called "Kissing Strangers." The song and video will drop this Friday, but Joe's been posting snippets of the track for fans to get a little sneak peek, including a phone number that plays the chorus when you call it.
And it isn't only Nicki and Joe's sultry kiss that fans are getting excited about — it's also Nicki's wild new look for the video!
Photos from the set show Nicki rocking a cowboy hat, leaving fans to guess that she could be going full Joanne and bringing some country flair to the track.
Nicki began responding to fans reading into the cowboy hat. One even created a whole Twitter account solely devoted to the hat. It sounds like we're going to have to wait until Friday to find out if Nicki really did make like Nelly and jump from rap to country.
The track and music video for "Kissing Strangers" drops this Friday.