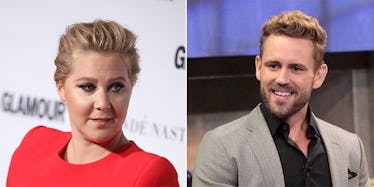 'The Bachelor' Nick Viall Gets Flirty In This Video Message To Amy Schumer
REX/Shutterstock/ABC
Nick Viall needs to stop trying to ruin America's greatest treasures, like sweaters, crying in public and Amy Schumer.
Bachelor Nation fans may remember Amy's appearance on Kaitlyn Bristowe's season of "The Bachelorette" when she attempted to teach the contestants to have a personality do stand-up. It went well!
During Monday's episode of "Good Morning America," the hosts played the "Trainwreck" star a recorded message from "Bachelorette" cast-off and current "Bachelor" Nick Viall in which he lamented joining the season too late to meet her.
He said,
Hey Amy, it's Nick. How's it goin'? I just wanted to say, of all my time on Bachelor Nation, I only have one regret and that is showing up late to Kaitlyn's season because I realize now, had I showed up on time, you and I might have had a chance to meet. Who knows what could have happened? But unfortunately it just wasn't meant to be.
Um, hey, Nick. It's Taylor. How's it goin'? I just wanted to say, STAY IN YOUR LANE, MAN.
Luckily, Amy (and presumably Nick, but we'll find out next week) is taken. She's been dating furniture hottie Ben Hanisch for over a year.
She told GMA,
GOSH! I can't believe that. Well, in two seasons when I'm 'The Bachelorette'...
Don't tease, Amy. That would be the most entertaining, deeply satisfying season of reality television since the entirety of "I Love New York."
Alas, we have to settle for the lukewarm vagueness that is Nick's season for now and pray Rachel Lindsay finds romance in the grandest sense when her season of "The Bachelorette" is shot and ready to air.
Keep those fingers crossed and those turtlenecks away from Nick, people. We will find happiness if it kills us, just as 50 Cent was able to get rich and die tryin'.
Citations: 'Bachelor' Nick Viall Records Flirty Message for Amy Schumer, Says His 'One Regret' Is Not Meeting Her (ET)