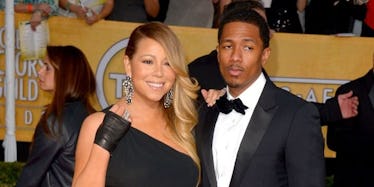 Nick Cannon Calls Out Mariah Carey's 'Fake' Relationship: It's 'Hilarious'
REX/Shutterstock
Mariah Carey appears very much in love with her current boyfriend, Bryan Tanaka, but her ex-husband, Nick Cannon, said that new relationship is "fake" AF.
Cannon, who was married to Mariah Carey from 2008 to 2016, joined the set of "The Howard Stern Show" Wednesday to discuss a variety of topics, but the "America's Got Talent" host eventually ended up spilling his guts about Mariah Carey's current relationship with her backup dancer.
As you can hear in the video above, speaking on Carey's relationship with Tanaka, Nick Cannon said,
That shit is hilarious... as long as she's happy.
Eventually, Cannon elaborated further on what he thinks about Mariah Carey's current romantic interest. He said,
First of all, I think the whole reality show is fake. I'm a producer, so you can't have a well-lit private conversation. Like, that shit doesn't happen. I don't buy none of that shit.
Shots fired, y'all! Nick Cannon came with the heat for ex Mariah Carey on "The Howard Stern Show," didn't he?
Nick Cannon continued,
That type of stuff doesn't bother me, because we're in it, that's the type of world that we're in, but when you start trying to pull a fast one on people, that shit is silly. They like, wrote the story! That shit is like a soap opera, like, 'The billionaire doesn't know, and here's the handsome young dancer.'
I mean, he kind of makes a good point.
However, not everything Cannon had to say about his ex was of a negative nature. In fact, the 36-year-old revealed he still "loves" Mariah Carey.
Speaking on his past relationship with the pop diva, Cannon said,
She gave me two amazing, beautiful gifts. We talk every day. I love Mariah. I'll never stop loving her.
Cannon, of course, was referring to his twin daughters, Moroccan and Monroe.
Damn, this kind of hits you in the feels, doesn't it?
Like, clearly Mariah Carey and Nick Cannon had a rough ending, but that obviously doesn't mean the two don't have feelings toward one another.
Citations: Nick Cannon Says Mariah Carey's Romance With Bryan Tanaka is Fake: 'That Sh*t is Like a Soap Opera' (Entertainment Tonight)