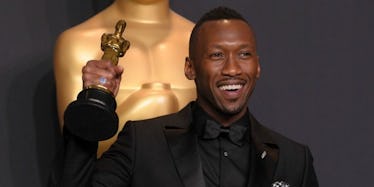 Oscar Winner Mahershala Ali Used To Be A Rapper, Proves He Can Do It All
REX/Shutterstock
Mahershala Ali is best known for his incredible acting talent these days, but about a decade ago he was actually aiming for the Grammy instead of an Oscar. That's right — Ali is not only a masterful actor, but a pretty killer rapper as well!
Before he reached the heights of popularity that he achieved last year for prominent roles in "Hidden Figures," Marvel's "Luke Cage" and his Oscar-winning turn in "Moonlight," Mahershala Ali was spitting rhymes as rapper Prince Ali.
Yeah, like that "Aladdin" song... except his West Coast flow wouldn't exactly fit into a Disney movie.
Back in 2006, Mahershala Ali released his first underground mixtape as Prince Ali, Corner Ensemble, and the next year he released his only full-length album, Curb Side Service.
I guess when Ali's acting career began picking up more in 2008 (when he landed his first major film role in "The Curious Case of Benjamin Button") he shifted his focus away from his music career.
Of course, Ali was already a recognizable actor to fans of the early 2000s medical crime drama "Crossing Jordan" before he started releasing music as Prince Ali. You can check out one of his most popular tracks, "The Majors," below.
As his iTunes profile points out, Mahershala Ali first became inspired to pursue hip-hop in the mid-'80s, and attributed Run-D.M.C. as one of his primary influences.
After Ali graduated from New York University's Tisch School of the Arts, he founded his own record label, Eye5 Recordings, and began to churn out tracks.
Of course, after last Sunday's Oscars, it seems pretty clear Mahershala Ali made the right choice to choose acting over music; the "Moonlight" star took home the Best Supporting Actor trophy for his powerful portrayal of drug dealer turned father figure Juan.
But hey, who knows — maybe now that he's got his Oscar he'll give the music thing another shot. EGOT potential, perhaps!?
Citations: Mahershala Ali used to be a rapper and of course he's very good (Mashable)