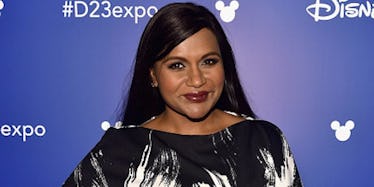 Mindy Kaling Is Reportedly Pregnant With Her First Child
Alberto E. Rodriguez/Getty Images for Disney
You know her from The Office and The Mindy Project, but Mindy Kaling is stepping into a whole new role. According to E! News, the 38-year-old actress is reportedly pregnant with her first child.
Although the source says this is an "unexpected surprise," there will reportedly be no changes to the actress' production schedules.
Elite Daily reached out to Mindy Kaling's team, but did not hear back by the time of publication.
Mindy Kaling is my kween. She's a talented writer, absolutely hilarious, loves Beyoncé and has many mortal enemies. Does she remind you of anyone? Hint: me — maybe with a smidge less talent. When I win a Gracie, I'll let you know.
The source from E! mentioned Kaling's production schedule, which is literally packed. Kaling is cast in Disney's adaptation of A Wrinkle In Time, along with big names like Oprah and Reese Witherspoon. It looks pretty epic.
Kaling's current baby, The Mindy Project, will be ending after its sixth season. The show stars Kaling as an OBGYN who deals with dating, overeating, and whatever life throws at her. The last season will start streaming in September on Hulu.
Kaling always seems to have a few projects in the pot, so I'm glad she'll be able to keep up with her busy schedule.
In the past, she has been open about a desire to have children. Back in 2015, Kaling told Yahoo! Style,
I think I've decided that unlike everything else in my life, I'm going to be fast and loose about kids. I'm going to not actively plan, but it if happens, it would happen.
Whatever the future holds for Kaling, her fans are definitely supportive.
Honestly, The Office references have been on point.
People are emotionally invested in this.
Greatness breeds greatness, isn't that what they say?
Now that Beyoncé had her twins, we were all in need of a little baby news. Wishing Mindy Kaling a future of health and happiness.