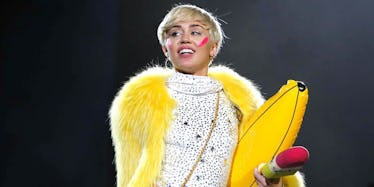 Miley Cyrus Is The Latest Celebrity To Have Nude Pics Leaked In Online Hack
REX/Shutterstock
Miley Cyrus is totally cool showing off her body on her own terms, but what's very not cool is hackers spreading naked photos of the singer online.
Apparently, Miley is the latest celebrity who's been targeted in the recent string of photo leaks.
According to Metro, nude photos of Miley were recently posted on Celeb Jihad, the same site that just posted leaked photos of Amanda Seyfried.
The photos of Miley have since been removed after legal action was threatened, but Miley herself has not commented on the leak.
Of course, Miley's nude photo hack is sadly nothing new.
Hacking of celebrity iCloud accounts and releasing private photos has been going on sporadically for several years now, but it's grown into a notable streak in roughly the past month with Amanda Seyfried, Emma Watson and now Miley Cyrus being targeted.
Just a few months before these famous women were facing private photo leaks, a whole bunch of nude photos and videos of young male actors like "Teen Wolf" stars Tyler Posey and Cody Christian were leaked on Twitter.
In fact, the hacks are getting so rampant that the current situation may even be getting close to rivaling the infamous iCloud leak of 2014, which involved hundreds of private photos of celebrities like Jennifer Lawrence, Kate Upton and Kirsten Dunst being posted on Reddit.
It's likely the hackers behind the recent wave of leaks are unique from the ones that perpetrated the 2014 attacks.
Last year, a 36-year-old from Pennsylvania name Ryan Collins was sentenced to 18 months in prison in connection to the 2014 hacks, and another man thought to be behind them was just sentenced to nine months at the start of 2017.
Clearly, the investigation and sentencing of the 2014 case took a while, so things don't look great for finally bringing this gross practice to an end.
Citations: X-rated pictures of Miley Cyrus are released as she is the latest in 2017's nude hacking scandal (Metro UK)