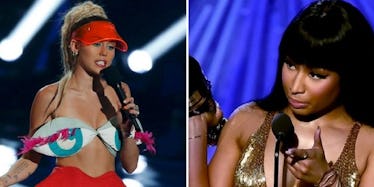 Will Miley Cyrus And Nicki Minaj Rehash Their Feud At The Billboard Music Awards?
MTV
Two years ago, three little words set into motion one of the most gasp-worthy celebrity feuds of our era.
When Nicki Minaj seethed "Miley, what's good?" at the 2015 MTV Video Music Awards, music fans everywhere witnessed the beginning of one of the most public celebrity beefs since Katy Perry and Taylor Swift.
Now, Nicki and Miley Cyrus are set to share the stage again at the Billboard Music Awards this weekend. They haven't really addressed each other in the two years since the VMAs incident, so what can viewers expect when they tune into the Billboard Awards on Sunday?
First, let's recap what went down between Miley and Nicki in the first place.
The big controversy going into the 2015 VMAs was actually between Nicki and Taylor Swift. Nicki accused the awards show of racism for not nominating her "Anaconda" video for the Video of the Year award, and Taylor responded by defending her nomination for "Bad Blood."
A week before the show, Miley Cyrus got involved in the feud when a New York Times interviewer asked what she thought of the exchange. Miley criticized Nicki's comments to Taylor as being "not very polite" and "not too kind."
So fast forward to the big night, which Miley Cyrus was hosting. Nicki came to the stage to accept her award for Best Hip-Hop Video, and ended her acceptance speech by throwing it back to Miley with particular vitriol:
And now back to this bitch that had a lot to say about me the other day in the press. Miley, what's good?
Clearly in crisis mode, Miley responded by quickly saying that interviews are so often misinterpreted by the press before moving on to introducing the next category. But the camera went back to Nicki, who was clearly still angry, pointing at Miley and mouthing, "Don't play with me."
Shortly afterward, Nicki explained her beef with Miley to the New York Times. She explained she felt Miley incorporates herself into black culture when it comes to making music, but steers clear of learning about racial social issues.
And now, here we are in 2017.
Miley and Nicki haven't really interacted significantly since the infamous moment, but they'll both be performing at the Billboard Awards on Sunday, May 21.
So the big question is, will we see a Miley What's Good Part 2? Or even a Nicki, What's Good!?
We don't know for sure, but I'm going to assume if there is a rehashing of the beef, it'll only be in jest.
A lot of people already assumed the 2015 incident was staged by MTV anyway, so it's totally possible  Miley and Nicki never really had any feud in the first place.
Plus, Miley has completely changed her image (yet again) since then. She's opened up about getting sober recently and her new single "Malibu" is an easy-listening, soft rock departure from her hip-hop-influenced 2015 work.
But you never really know when drama is going to rear its head in Hollywood, so I'll definitely still be tuning into the Billboard Awards with my eyes peeled for even the slighted side-eye from Nicki or Miley!
Make sure to follow along with Elite Daily for more Billboard Music Award coverage this weekend!