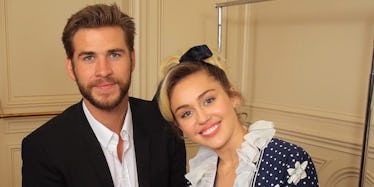 Miley Cyrus Posts Pic Of Liam Hemsworth In A Dress In Honor Of Valentine's Day
REX/Shutterstock
The couple who slays together, stays together.
Case in point: Miley Cyrus photoshopped a photo of herself at the 2015 amfAR Inspiration Gala to feature her and fiancé Liam Hemsworth in the same custom-made Moschino heart gown.
Liam isn't generally a dress guy, but these two both look goddamn radiant in Miley's Valentine's Day tribute post.
These two are routinely the cutest and no one — not even the loneliest of the lonelies — can even be mad about it.
Since getting re-engaged in 2016, the pair's social media presence has doubled down on holy-crap-that's-adorable.
Last month, Miley wished Liam a happy 27th birthday with a goofy picture of the two of them and a caption that'll make you reconsider all the times you were mean to boys for no dang reason.
She wrote,
Happiest birthday EVER to my favorite being EVER EVER EVER! You have been my best friend since the day we met….. I am beyond lucky to share sooooo animals with you!!! I love you @liamhemsworth.
WOW. THEY ARE TRULY LOVERS AND BEST FRIENDS.
These two crazy kids haven't set a wedding date, but perhaps that's just because Miley's still getting used to the ring.
During an appearance on "The Ellen Degeneres Show," she told the host,
This is really weird because this is like real jewelry and most of my jewelry is made out of gummy bears and cotton candy, and they don't look that good together because they kind of mix up, so sometimes I replace it with an actual unicorn or a Looney Tune.
Girl can fuck with that ring however she wants, as long as she never lets Liam go. These two are proof humans can mate for life, like swans or termites or bald eagles or ospreys or prairie voles.
Miley and Liam are #relationshipvoles -- sorry, I mean -- #relationshipgoals.