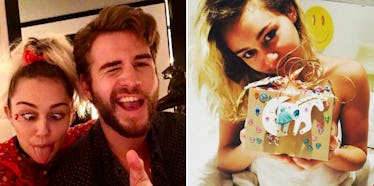 Miley Cyrus Posts Sweet Birthday Tribute To Her 'Favorite Being' Liam Hemsworth
Instagram
I know they say love is dead, but if you look at the likes of Miley Cyrus and Liam Hemsworth, I promise you'll be convinced otherwise.
Over the holidays, Cyrus and Hemsworth gave back to the community by visiting the Rady Children's Hospital in San Diego.
Now, the couple are showing they're also really good at showering each other with love.
Miley Cyrus recently took to Instagram to wish her main squeeze Liam Hemsworth a happy 27th birthday, and her birthday tribute is too adorable.
Aren't these two just the cutest, goofiest peeps you've ever seen?
To caption the above photo, the 24-year-old Cyrus wrote to Hemsworth,
Happiest birthday EVER to my favorite being EVER EVER EVER! You have been my best friend since the day we met..... I am beyond lucky to share sooooo animals with you!!! I love you @liamhemsworth.
No, you're crying!
I wish my fiancée would call me her "favorite being."
We're engaged, and I love her and all, but we've got nothing on Miley Cyrus and Liam Hemsworth. Let's just keep it real, right?
Almost two months ago, Hemsworth wished Cyrus a happy birthday on Instagram in the same adorable fashion.
To caption the above photo, Hemsworth wrote to his girl,
Happiest birthday to my favorite little angel!
Clearly, love isn't dead.
It's curious, though, because it appears Miley Cyrus has a real issue with wearing the engagement ring Liam Hemsworth gave her.
Cyrus recently told Ellen DeGeneres the ring clashes with her wardrobe choices.
The 24-year-old said,
This is really weird because this is like real jewelry and most of my jewelry is made out of gummy bears and cotton candy, and they don't look that good together because they kind of mix up, so sometimes I replace it with an actual unicorn or a Looney Tune.
I mean, can't win 'em all, right? In any case, happy birthday, Liam!
Citations: Miley Cyrus Shares Sweet Message and Selfie on Liam Hemsworth's Birthday (Entertainment Tonight), mileycyrus (Instagram)