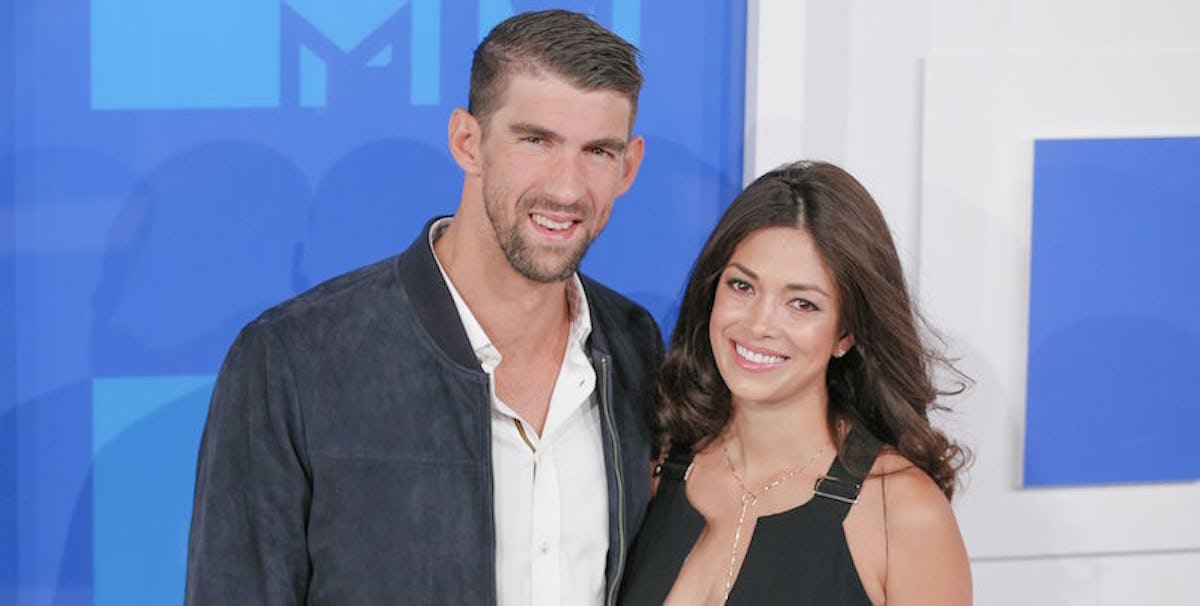 Michael Phelps Secretly Married His Fiancée Months Ago And No One Knew
REX/Shutterstock
I bet you didn't think Michael Phelps was a married man -- but HE IS.
That's right, 31-year-old Michael Phelps married his fiancée Nicole Johnson back in June in Maricopa County, Arizona. The exact date the couple exchanged vows is said to be June 13.
SNEAKY, SNEAKY!
According to TMZ, Phelps and Johnson were issued their marriage license on June 9. The report also states that Peter Carlisle, Michael Phelps' agent and good friend, officiated their wedding.
Without anyone knowing previously, Nicole Johnson took to her Instagram to post a photo with a heartfelt caption reading, "Such a memorable night with my lil fambam" on what is now known as her wedding day.
Not only is Michael Phelps officially a married man, but he's officially one of the sneakiest athletes in the history of the sport (of low-key getting married).
The funny part is, Johnson actually spoke to "Access Hollywood" about what their wedding would be like LAST MONTH. She revealed,
It'll be small and intimate for the wedding, and then we're throwing a massive bash for everyone in the states. I've been planning as we've been leading up to this, so I think I have the wedding in order and now it's on to the party for the fun.
Hey, does anyone know if they were invited to "the fun" yet? Because we KNOW they're already married.
As matter of fact, the newlywed couple was already married prior to the "Access Hollywood" interview.
All jokes aside, congratulations to Michael Phelps and Nicole Johnson on tying the knot!
Things have to be shaping up pretty nicely for Phelps. Not only is he now married to the love of his life, but they also share a son named Boomer and Phelps is now retired from the sport of swimming.
That means he's got a clear schedule so he can focus on his family.
Nicole spoke to Cosmopolitan about Michael Phelps having more time on his hands following his retirement, saying,
Now we get to have fun. We get to enjoy parts of life that everybody gets to on a daily basis that we had to step away from so Michael could go and do what he needed to do. We're still learning what date night is and we're balancing with Boomer. We love going to dinner. We love being home and cooking together. We're homebodies.
This means there's more time for Phelps to enjoy his lavish pool and, of course, more time for more cook-offs.
What a lovely couple. Admit it, you're a LITTLE jealous!
Citations: Michael Phelps Is Married! Olympic Swimmer and Nicole Johnson Secretly Say "I Do" in Private Summer Wedding (E! News)