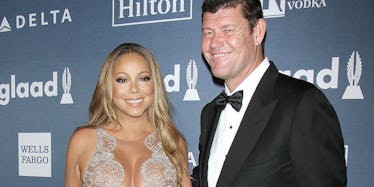 Mariah Carey Reportedly Dumped By Fiancé, Vegas Dancer May Be To Blame
REX/Shutterstock
Surprise surprise! Not everybody wants to have his or her personal life put on display for the whole world to see! (Read also: Kardashians.)
Well, not Australian hunk, businessman, philanthropist and billionaire James Packer, at least.
The 49-year old investor got engaged to soulful R&B singer Mariah Carey in January, and everyone was jealous over the huge-ass rock on her ring finger.
WOW, big.... engagement ring, Mariah.
The diamond is worth over $10 million, and even though they've reportedly split, he's apparently letting her keep it. 
I mean, I guess that's nothing to a billionaire (can't relate, must be nice), but the reasons for the the split didn't exactly seem amicable, either.
A source told Australian magazine Woman's Day,
James had huge reservations about Mariah's new reality TV show and the fact that she was willing to expose their lives to the world.
... They looked so happy, though. It actually kind of makes me sad.
But the TV show wasn't the only thing causing tension. A TMZ source said the final "deal breaker" was something actually caught on tape.
She allegedly had some sort of "rendezvous" (does that mean affair?) with one of her backup dancers in Las Vegas.
I guess what happens in Vegas doesn't actually stay in Vegas.
Why you look so happy in this photo, huh, Mariah???
These are questions that need to be answered!
According to Woman's Day, a family friend answers that question with a simple answer: "It's all over."
The website also said her spending habits may have been another reason the mogul decided to split from the celebrity.
James: What's in the shopping bags?
Mariah: Ummmm, I love you?
People suspected something was off when Mariah posted this picture with her ex-husband Nick Cannon.
But she's still wearing the ring... SUS.
Well, I can't say these reasons are completely invalid. But what I can say is Eminem definitely warned us about this.
Watch the video above to see the trailer for Mariah's new reality show, which is supposed to premiere in December.
Citations: MARIAH CAREY, JAMES PACKER DONE FOR NOW ... MAYBE FOR GOOD (TMZ), Billionaire James Packer 'DUMPS' fiancée Mariah Carey over 'excessive spending' and her 'rendezvous with Vegas dancer'... but she'll 'keep $10m engagement ring' Read more: http://www.dailymail.co.uk/tvshowbiz/article-3876760/James-Packer-DUMPS-fianc-Mariah-Carey-excessive-spending-insiders-claim-keeping-10m-engagement-ring.html#ixzz4OJ9I07Tt Follow us: @MailOnline on Twitter | DailyMail on Facebook (DailyMail UK)