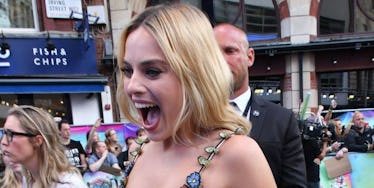 Margot Robbie Posts Insta Of New Puppy And It's Even Cuter Than She Is
REX/Shutterstock
You know what they say: "Jealousy makes a jeal out of O us Y."
Still, Margot Robbie keeps giving us reason after reason after reason after reason to go absolutely batshit feral with jealousy over her life.
She's gorgeous. She's talented. She once got to air out her vagina in Leonardo DiCaprio's face without having to walk the Victoria's Secret runway first.
Now, she has the cutest goddamn dog on the planet and none of us will probably ever get a chance to snuggle him.
The 26-year-old shared a photo of her and husband Tom Ackerley's new puppy, Boo Radley, on Instagram Tuesday.
Boo is a rescue who, despite his "To Kill a Mockingbird" namesake, seems pretty dang approachable.
Boo's not scaring the neighbors or inspiring urban legends. He's just sittin' on a bean bag poof, warming his tiny puppy butt.
Margot and Tom are building a family pah-retty fast. The couple wed secretly in December in Gold Coast, Australia, where Margot is from.
A friend of the couple told Women's Day,
Tom initially wanted to get married in the UK, but he knows how much it means to Margot to tie the knot on home soil and how special it is for her, so he didn't put up much of a fight. They decided to marry around Christmas so they could spend time with both their families afterwards, which they've never done before.
Margot and Tom met on the set of "Suite Française" in 2014. For those of you who didn't catch "Suite Française" (same), it's a love story that's also about Nazis, I guess?
In it, Margot rocks the type of killer Cher wig you save for a special occasion, like, say, meeting the man of your dreams.
Congratulations on your new pup, Tom and Margot. Please consider adopting me next.
Citations: Margot Robbie Adopted a Super Adorable Puppy: 'Our Little Rescue Pup' (PEOPLE)