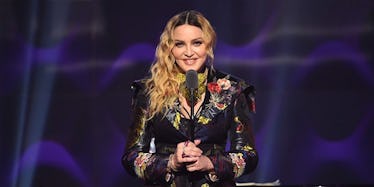 Why The Unauthorized Madonna Biopic Is Another Example Of A Woman's Voice Stolen
When it comes to pop icons who have experienced their fair share of triumphs and tragedies, Madonna has been there, done that and bought the damn t-shirt.
Her life is perfect for a biopic, since she's certainly got a story that fans would flock to theaters for. But according to a Hollywood Reporter story, that will likely happen sooner than later.
"Blond Ambition," a script written by Elyse Hollander, has been picked up by Universal Pictures and is set to be produced by Michael De Luca, who also did "Fifty Shades of Grey."
The film will be the classic struggling artist's tale, as it chronicles Madonna's early days in New York City as she found her music niche, and then finally made it as a notable pop singer in the industry.
TBH, it's sounds like it's going to be a seriously great story.
Except Madonna isn't involved in the project and the biopic is unauthorized.
And our favorite Material Girl isn't feeling it one bit.
So there's that.
Like the unauthorized biopics before it, this Madonna film will still go forward.
It will also likely be dragged all over social media.
Consider Lifetime's widely criticized "Britney Ever After," "Aaliyah: The Princess of R&B" and "Whitney" films.
And then there was the atrociously cast "Nina" film on the late singer, Nina Simone, starring Zoe Saldana. Despite pushback from fans and the artist's family, the movie was still released. Instead of being a box office hit, the film ended up sparking debates about colorism, colorblindness and black face.
Yeah, ouch.
Hollywood would do itself a favor to stop stealing women's voices.
It doesn't matter that the script's writer is a woman. She isn't Madonna and didn't consult Madonna, therefore her script, however well-written, already lacks authenticity.
This trend of taking a woman's story and telling it when and how Hollywood sees fit is just another way that women are being silenced in an industry that already suffers from severe gender inequality issues.
Women in Hollywood already often get paid less than their male peers. There is already a significantly low number of female writers and directors compared to the number of men. The film industry also has an ageist problem, considering its nasty habit of paying actresses less as they get older.
These unauthorized biographies of women, especially those who are alive, send the message that women are not only incapable of telling their own stories, but are also unworthy of it.
To take that power away from any woman, including the barrier-breaking, feminist AF Madonna, is a slap in the face to women everywhere.