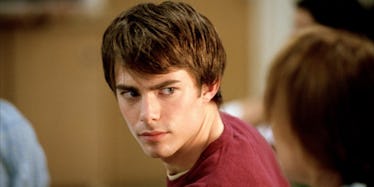 Lindsay Lohan Had A Mini 'Mean Girls' Reunion With Aaron Samuels
Paramount Pictures
It finally happened, everyone.
Lindsay Lohan and Jonathan Bennett -- better known as heartthrob Aaron Samuels -- just had a mini "Mean Girls" reunion, and we can't get over the nostalgia.
Only this time, they weren't awkwardly sitting in math class. They were FaceTiming on LiLo's cell, and she posted a screenshot of the convo to Instagram on October 6.
Awww, look at you two! I can't handle the cuteness!
In a perfect world, the actors would have reconnected on October 3 -- because that would make the most sense, right?
You were a little late, guys, but we'll forgive you.
Regardless of their failed attempt at getting the date right, the screenshot is still giving us all of the #feels because nothing is better than knowing Cady Heron and Aaron Samuels are "grool" with one another.
I will admit, LiLo does looks a little happier about the reunion, but can we blame her? Any chance to relive the "Mean Girls" glory days should be embraced with open arms.
Funny enough, Jonathan Bennett doesn't agree.
The actor spoke with Us Weekly last year about how incredibly unenthused he is about a "Mean Girls" reunion with a handful of the cast members, and it's kind of a bummer. He said,
I don't give a fuck, no. No more 'Mean Girls' reunions!
OK, OK, calm down Aaron.
Apparently, he began his anti-reunion rant in May 2015 at the Reality TV Awards in Los Angeles, saying,
If anyone asks me one more time if there's going to be a 'Mean Girls' reunion, I'm going to kill someone. No! There's not going to be a 'Mean Girls' reunion! Stop trying to make it happen! It's not going to happen!
Ouch. Do I sense a little Gretchen Wieners here?
As much as we'd love a full-cast "Mean Girls" reunion, we'll have to settle with LiLo's screenshot and remain comforted by the fact she and Aaron Samuels are still friends.
Well, according to Lindsay, they are.