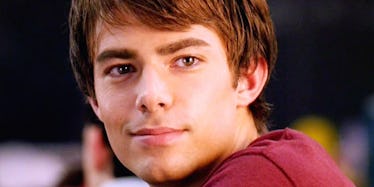 Here's What Aaron Samuels From 'Mean Girls' Looks Like Today
Paramount Pictures
I think we can all relate to Cady Heron in "Mean Girls" straight up drooling over North Shore High hottie, Aaron Samuels.
"On October 3rd, he asked me what day it was."
Cady had the biggest crush on the sexy football star, and honestly, who could blame her? She totally could not contain her cool when she was around him.
Aaron Samuels was the epitome of a hunk, and all of our teenybopper-selves lost our hearts to him through our TV screens.
Is it getting hot in here or what?!
But ~SIGH~ Aaron was the exclusive property of Regina George, Queen Bee of the Plastics squad.
Since his "Mean Girls" days, Aaron Samuels, AKA Jonathan Bennett, has changed.
Are you ready? Because he's gotten even SEXIER with age.
Here's what our "Mean Girls" stud looks like today.
What better place than Cabo to celebrate a bachelor party weekend with the bros? This beach is heating UP.
Oh snap, our man Aaron's got mad jokes on his Instagram, too.
He seems like one funny dude.
As if things couldn't get any sweeter, he's also the host of Food Network's "Cake Wars."
He casually chilled with Cookie Monster on the show…
…Where they, naturally, stuffed their faces with cookies on cookies.
I'd say this #HotMess is looking v. fine.
Aaron's foodie-self celebrated National Grilled Cheese Day like a total boss.
He even gave "Mean Girls" a hardcore shoutout in this picture… #OnWednesdaysWeWearPink.