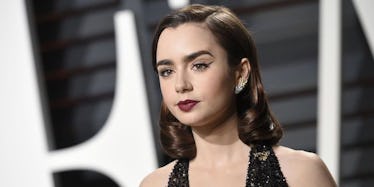 Lily Collins Opens Up About Feeling 'Ashamed' For Being In Abusive Relationship
REX/Shutterstock
You may know 27-year-old actress Lily Collins from a few things — her famous father, English musician Phil Collins, for one.
But she's earned fame in her own right, too.
In 2013, she took on the role of Clary Fray in the film adaption of "The Mortal Instruments: City of Bones." In 2016, she earned a Best Actress (Comedy or Musical) Golden Globe nomination for her role as Marla Mabrey in "Rules Don't Apply."
Her latest project is not a role but a book — a collection of essays that tell deeply personal stories about Collins' life, called "Unfiltered."
In these essays, Collins opens up about her difficult past and shares her experience with things like abusive relationships, eating disorders and finding herself.
Collins recently sat down with Us Weekly to discuss her new book, which came out today, and some of the issues it addresses — like her hesitance to get as real as she did about her emotionally abusive relationship, at first.
She said,
Being in an emotionally abusive relationship. I never regretted it, but I felt ashamed. I thought, 'How could I put myself in that position?' I came to a deeper understanding as I was writing. It's taking the shame out of those things that makes you stronger.
In an Instagram post Collins shared to celebrate her book's release, she voiced concern about how people might take her stories about that relationship, and she urged readers not to jump to conclusions, or harass anyone on her behalf.
In the caption, Collins wrote,
My book #Unfiltered is not about the other people in my life but instead, what I've learned about myself along the way. It's not about vilifying anyone. It's about sharing my experiences to hopefully help others. In this book, I discuss a lot of sensitive issues including a physically abusive relationship I was in. Please don't speculate, jump to conclusions, target or blame anyone you think may have been involved.
Collins has said in past interviews that she generally chooses to keep her personal life private after seeing her parents — Phil Collins, and his second wife, Jill Tavelman — suffer from the intense media coverage of their lives.
So one can only imagine how difficult and scary it was for her to open up to the world like this.
Collins told Us Weekly seeing the bravery of other young women sharing their stories with her is one of the reasons she felt inspired to write this book.
She said,
Girls from all over the world started sharing their insecurities, whether it was with bullying, body issues or dating. They were really putting themselves out there and being brave. I thought, if they're willing to tell their stories, I want to tell mine. They have no idea how much I can connect with them.
"Unfiltered" by Lily Collins is available today, online and in bookstores nationwide.
Citations: Lily Collins Opens Up About Past Eating Disorder, Emotionally Abusive Relationship In Powerful Essay Collection (Us Weekly)