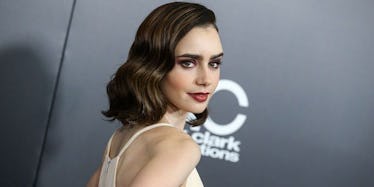 Lily Collins Opens Up About Eating Disorder After Playing Woman With Anorexia
REX/Shutterstock
Lily Collins is just one of the estimated eight million Americans who knows how it feels to suffer from an eating disorder, and she's getting closure in a pretty badass way.
The Golden Globe nominee's upcoming film, "To The Bone," tells the story of a young girl's experience battling anorexia.
Lily bonded with director Marti Noxon over their similar histories struggling with eating disorders.
The "unREAL" co-creator previously tackled mental health issues on her Lifetime series, following Shiri Appleby's character's balance of constant work and unspecified mental illness.
The storyline of "To The Bone," as well as its dark humor, allowed the 27-year-old to open up to fans about her past.
She told the Hollywood Reporter,
[Eating disorders were] something that I went through as a teenager and that I had never spoken about and I thought this would be an amazing way for me to almost face a fear, and to go through it again, but to tell a greater story… to really open up a conversation among young girls and guys.
Though eating disorders — which, according to ANAD, have the highest mortality rate of any mental illness — and their portrayal in media are generally grim, Lily said the tone of the film acknowledges the lighter moments of the struggle as well.
I feel that the way it was written and told are really only ways that it could be told by people -- or someone -- who had actually gone through it themselves because there is a sense of weird humor we use in it… It doesn't make it too, for a lack of a better word, weighty.
"To The Bone" makes its world premiere at the 2017 Sundance Film Festival.
With such a massive portion of the population hoping to see their story responsibly told with heart and humor, it should be interesting to see how "To The Bone" delivers.
Citations: Lily Collins' New Project Uncovers Her Personal Connection To Eating Disorders (Refinery29)