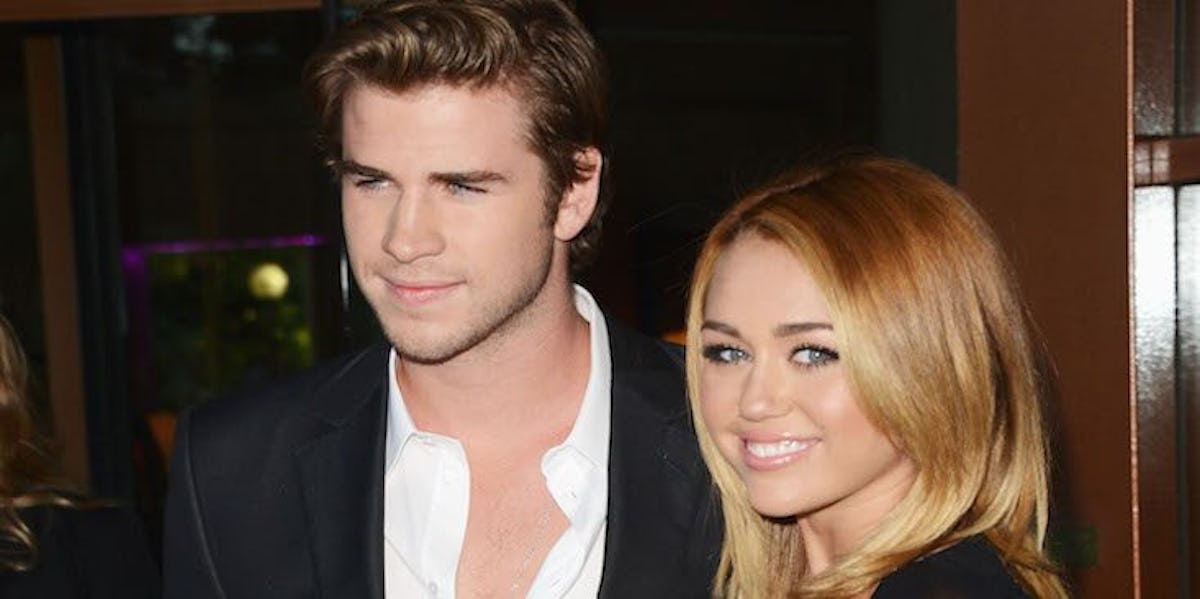 Liam Hemsworth Posted The Cutest Instagram With Miley Cyrus And Fans Are Obsessed
Jason Merritt/Getty Images for AIF
Liam Hemsworth and Miley Cyrus may have had some ups and downs, but things are solid now with the two stars and fans are totally into their relationship. The only problem? New photos of Liam Hemsworth and Miley Cyrus aren't always that easy to come by, despite the fact that she's very active on social media and he posts pretty regularly, too. That's why, when a new photo of the couple lands online, fans kind of lose it.
The new pic is on Hemsworth's Instagram and, well... it's different. Hemsworth went full-on artsy mode and posted a pic of the two with an illustration filter, writing: "Life is way cooler in cartoon." Can't argue with him there.
In the photo, Hemsworth sports a beard and sunglasses as Cyrus (with her hair pulled back in a ponytail) plants a kiss on his cheek. It's been a bit since he's posted a photo with Cyrus, though she does land on his Insta from time to time.
Cyrus hasn't posted a pic of Hemsworth in quite some time either, as her Instagram has been loaded lately with family photos, videos, VMA-related stuff, and other assorted shots. So, Hemsworth's latest pic of the two getting in a little PDA is a great reminder that everything is going well for the couple, bumping them up to the top of the relationship goals hall of fame list (if there were such a list in reality).
While the couple typically keeps things fairly low-profile, they were spotted at Target on Sept. 10, proving they're just like the rest of us! Just what were they buying? Furry pillows, by the looks of it!
Cyrus recently shared some details about her sex life with Hemsworth in a segment on The Ellen DeGeneres Show where she and the host answered vintage '70s Cosmo magazine quizzes.
One question asked: "Your sex life with your lover can best be compared to: a) a roller coaster ride, b) a luxury cruise, or c) a commuter trip on a Concorde jet." Poor Cyrus had to answer, but noted, "My grandma's in the audience!" Awkward.
Cyrus answered 'C', which DeGeneres pointed out "means it's fast." Cyrus smiled, saying, "Yeah, I'm good."
The next question asked how Cyrus would feel "when your lover calls you at home or anywhere else." Her choices for answers included: "elated by the sound of their voice," "hope they have some good news to tell you," or "are usually in a hurry to get back to the laundry." Cyrus said she always wants to hear good news, not bad news.
Another question asked, "Your lover wishes you were more: slender, informed, or attractive," with Cyrus answering "informed," but she rightfully called the question "sexist and wrong."
In July, Hemsworth shared this cute pic with his lady, writing: "My little angel and I."
This pic that Miley posted on Jul. 6 was a total fan favorite, as she captioned it: "Happy #InternationalKissingDay! Our first smooch 8 years ago!" Awwww.
And if that throwback photo of the couple doesn't melt your heart, this one from Hemsworth will bring all the old school feels you can handle:
Hemsworth even shared a pretty casual selfie of him and Cyrus, sharing a bit of Valentine's love.
While there's no word on a wedding date yet, Cyrus' dad, Billy Ray Cyrus, spoke with ET in June about having his daughter and Hemsworth at their Nashville, Tennessee, home. He spoke kindly about Hemsworth, noting, "Liam's been here quite a bit. They both love the outdoors. They love four-wheeling and the people. Both of them, Liam especially -- you know he's from Australia -- he's like, 'Man, the people here are so nice,' and it's true."