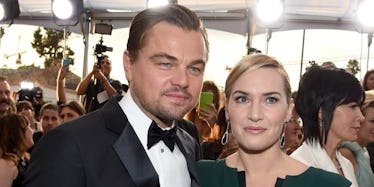 You Could Win A Date With Leo DiCaprio & Kate Winslet, Just Promise To "Never Let Go"
Getty
Have any of us recovered from the on-screen love that was Jack and Rose on Titanic, aka Leonardo DiCaprio and Kate Winslet? I know I haven't. While I sit and hum "My Heart Will Go On," let me tell you how to achieve the lifelong dream to hang out with these A-listers. One lucky person will bid and win a dinner date with Leonardo DiCaprio and Kate Winslet for charity.
OK, I lied. I'm not humming, I'm singing at the top of my lungs. However, I'm very serious about the dinner date with DiCaprio and Winslet. Dinner with the Oscar winners will be auctioned off at DiCaprio's annual gala fundraiser on Wednesday, July 26, in St. Tropez, France.
This event will be dripping with more celebs than most red carpets. Reportedly, Madonna, Cate Blanchett, Emma Stone, Uma Thurman, Tobey Maguire, Kate Hudson, Tom Hanks, Jared Leto, and Penélope Cruz are all event chairs and a few of the celebs who are expected to make an appearance. Lenny Kravitz will also perform.
Last year, the event benefitting the Leonardo DiCaprio Foundation raised a whopping $45 million for more than 30 organizations in 2016, $15 million more raised than in 2015.
So, what does a girl have to do for a night out with DiCaprio and Winslet? Besides spend a large chunk of change, you need a flexible schedule. Due to their busy lives, the private dinner has to take place sometime in October or November. The winning bidder can choose to dine out in any New York City restaurant for the special night.
Honestly, I would choose Shake Shack. Having a burger and fries with my favorite movie couple of all time sounds like an amazing dream.
Additionally, the winning bid from the private dinner will go to benefit a cause very near and dear to Winslet. She has rallied support for a mother in the U.K. with cancer. Winslet is also a big supporter of the Golden Hat Foundation, a charity that offers support to families who have children with autism and financial aid to those battling cancer.
While I'll never be able to afford a date night with DiCaprio and Winslet in this lifetime, I will sit and dream about what it would be like. They would let me fangirl as hard as I want, and they would think it was cute, not creepy. As for the lucky soul who wins this prize, have a wonderful time, and thank you for your donation to charity.