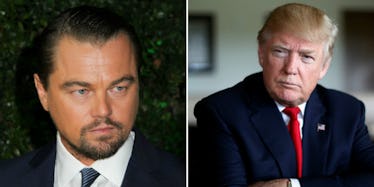 Leonardo DiCaprio Met With Trump So Maybe There's Hope For The Environment
REX/Shutterstock/Reuters
Leonardo DiCaprio is well known for his work trying to preserve the environment.
His 2016 documentary "Before the Flood" covered the issues of climate change and was released on every form of social media for free, hoping to inspire others to say:
Oh, shit. We're all going to die. We should do something about this -- if not for us, then for our future children and their children and so on.
It also shouldn't come as a surprise that Donald Trump has flirted with denying that global warming even exists.
DiCaprio and the head of his foundation met with the president-elect on Wednesday hoping to discuss how jobs that aimed to preserve the environment can actually help boost the economy.
The CEO of the Leonardo DiCaprio Foundation, Terry Tamminen, said that they gave a presentation to Trump, his daughter Ivanka and other members of Trump's team at the Trump Tower in New York City.
Leo and Tamminen focused on how renewable, clean energy could help create millions of jobs.
Tamminen, who was secretary of California's Environmental Protection Agency under former Governor Arnold Schwarzenegger, told The Associated Press,
Today, we presented the President-elect and his advisors with a framework — which LDF developed in consultation with leading voices in the fields of economics and environmentalism — that details how to unleash a major economic revival across the United States that is centered on investments in sustainable infrastructure. Our conversation focused on how create millions of secure, American jobs in the construction and operation of commercial and residential clean, renewable energy generation.
So hopefully, Trump's people are like, "Oh, jobs?! NICE! Let's not destroy the Earth!"
The meeting lasted for around 90 minutes.
Previously, DiCaprio met with Ivanka Trump and gave her a copy of his documentary and at the recent meeting, he also gave President-elect Trump a copy.
Trump promised to watch it.
Trump suggested that DiCaprio and Tamminen meet again. She said,
We look forward to continuing the conversation with the incoming administration as we work to stop the dangerous march of climate change, while putting millions of people to work at the same time.
This meeting took place after Trump was expected to name Oklahoma Attorney General Scott Pruitt as the lead of the Environmental Protection Agency.
Pruitt is a climate change denier who has helped fossil fuel companies.
Citations: DiCaprio meets with Trump on green jobs to boost economy (Yahoo)