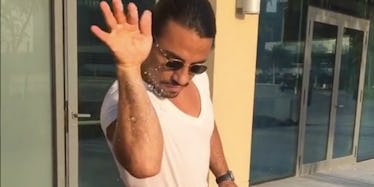 Leonardo DiCaprio Getting His Meat Seasoned By Salt Bae Himself Is All Of Us
Instagram
There's nothing more exciting than spotting one of your celebrity crushes in real life.
But you know what's even better than swooning over the sight of your beloved movie star?
Seeing your favorite celebrity alongside the infamous Salt Bae, of course!
If you're not familiar with the almighty Salt Bae, let me fill you in.
Back in January, the internet basically lost its damn mind when a smokin' hot Turkish chef, Nusret Gökçe, now known as Salt Bae, posted a video that forever changed the way we season our food.
After showing off some of his impressive knife-wielding abilities, Gökçe grabs a handful of sea salt and dramatically sprinkles the crystals onto his meat in the most elegant damn way ever known to man kind.
Lo and behold, Salt Bae was born, and his salting technique instantly turned into the internet's favorite meme of 2017.
If you've been dreaming about the day that he sweeps you off your feet and passionately prepares a juicy piece of meat for you, it turns out you're not alone.
Apparently, Leonardo DiCaprio is also a pretty big fan of the internet-famous chef because someone just snapped a photo that shows the Hollywood actor getting his meat seasoned by none other than the notorious Salt Bae.
This is not a drill: Leonardo DiCaprio just got his meat salted by Salt Bae!
The spicy chef recently shared a picture on his Instagram account that shows him sensually sprinkling salt onto Leo's steak in typical Salt Bae fashion.
If you take a closer look at this magnificent snapshot, it almost looks Leo is a little starstruck by the presence of this salt-sprinkling master.
But then again, you can't really blame him — it's not everyday you get to witness the glorious Salt Bae work his theatric meat-seasoning magic on your meal.
No really, I'm surprised Leo's toothpick didn't fall right out of his mouth as he watched Salt Bae's sprinkle his signature seasoning all over his arm in awe.
You're one seriously lucky man, Leo.
Citations: Salt Bae Salted Leonardo DiCaprio's Meat And We're Alive To Witness It (BuzzFeed)