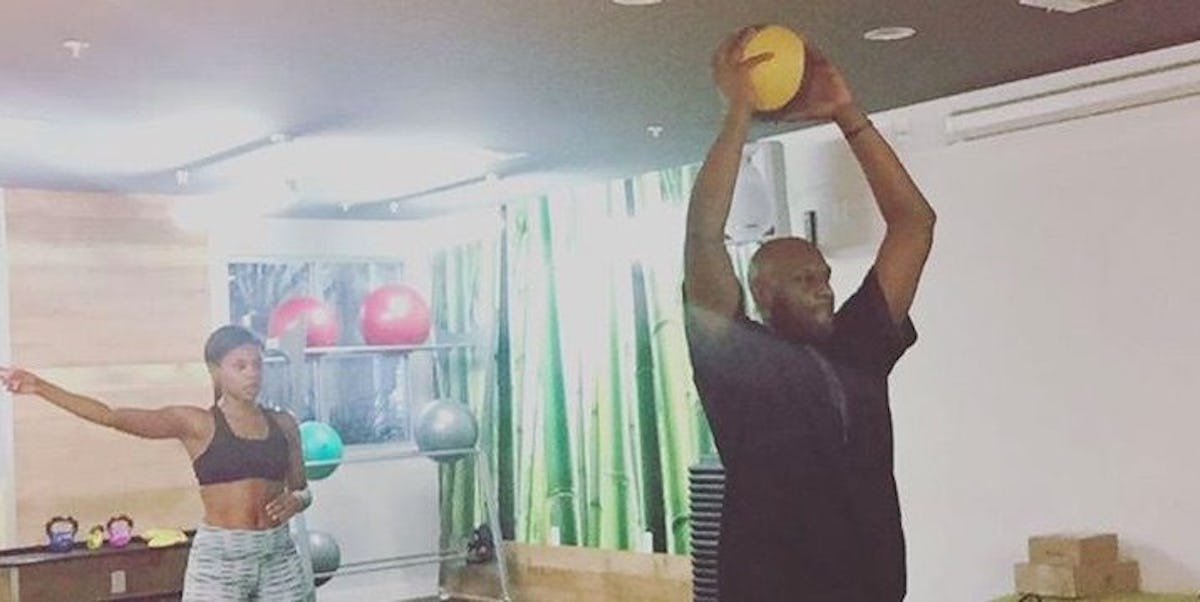 Lamar Odom Is Trying To Win Khloé Kardashian Back With His Own 'Revenge Body'
Instagram
Lamar Odom continues to defy the laws of biology and confound the world of modern medicine by simply being a living, breathing human being with basic cognitive function.
The former LA Laker shared a photo to Instagram on Tuesday in which he lifts a medicine ball above his head under the supervision of a trainer.
He captioned the pic,
Feels good getting back in the gym.
Back in October 2015, Lamar suffered a near-fatal overdose that left him in a coma. After slowly regaining his ability to walk and talk, Lamar completed a 30-day rehab program.
During an interview with hottie TV Dr. Travis Stork, Lamar claimed,
It's crazy because that night, I didn't do any coke or anything like that… So I was kinda confused too about how I got like that. I didn't know until Khloé had told me that I was in a coma. I couldn't even speak at the time. I couldn't talk. So I was scared.
Uh, sure.
He admitted he was "in a dark place" especially considering his then-ongoing divorce from Khloé Kardashian.
Lamar still holds out hope there's a chance Khloé will take him back.
He added,
I want my wife back. Other than that, I just want to live a happy, healthy life.
The couple's divorce was finalized on December 17, but Lamar insisted their story hasn't ended.
He said,
When you're doing drugs, you become distant to everything. Even your feelings, you become numb to everything. Just to reinstate what we had as a family, it was important to me. Khloé is important to me. She's been through all this with me. She stood by my side. I just want to repay her.
Whether Khloé is open to allowing Lamar to "repay" her is still up in the air.
She's currently dating Cleveland Cavalier Travis Thompson and the couple freely share evidence of their love for one another on social media.
Fortunately for Lamar, luck has a way of finding him.
Citations: Lamar Odom Is Working on a 'Revenge Body' of His Own (People)