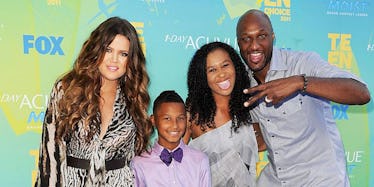 Lamar Odom's Daughter Speaks Out On Dad's "Toxic" Marriage To Khloe Kardashian
Jason Merritt/Getty Images
Lamar Odom's daughter, Destiny, is speaking out about what it's been like to have her father go through so much trauma in the very public eye.
As part of the People/Entertainment Weekly feature "Surviving A Father's Addiction: Lamar Odom's Family Speaks Out," the 17-year-old daughter got candid about her father's professional career, drug abuse, marriage to reality TV star Khloé Kardashian, and what it's been like for her to witness the drama all of these years.
Most notably, she talks about how there was a radical shift in her father's privacy when he married Kardashian.
She said,
Things changed when my dad married Khloé. Things were a lot more public... When your dad's an NBA player that's already enough, but when he's marrying a reality TV star, things are so public and you don't have a private life anymore.
Destiny was only 12 when Khloé Kardashian came into her life, and she commented on how surreal it was to watch her father on a show that she was a massive fan of herself.
It was crazy that my dad was getting married to this woman that I used to watch religiously. It was such a whirlwind, really.
As Lamar's family was kept off the show, it was easy for fans to never consider Destiny's experience.
However, while her father's personal life, tumultuous marriage, and struggle with addiction was unfolding on national television, she was still trying to be a regular teenager.
There were regular snide comments at school. And when his addiction became public, then it became a social media thing. Even people that I thought were my friends were saying stuff on social media. It was humiliating.
Destiny reflected on her father's near-death experience, and what it was like for her and her family when Khloé jumped to his side. Apparently, it was confusing for the family, as prior to his overdose, Khloé was a source of great conflict.
Destiny told People, "A lot of people in our circle were confused. Their relationship is very toxic."
You can see more in the clip below.
As of now, Lamar seems to be on a healing path, and is "a lot more open and apologetic." Destiny saw Lamar a few months ago, and explained,
I've had conversations with him just letting him know that I want him to get help. But at the end of the day he's a grown man and you have to want it for yourself.