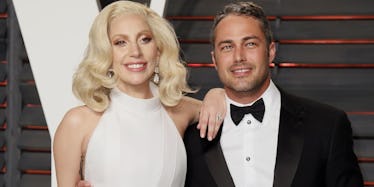 Lady Gaga Opened Up About Whether Her New Single Was A Shot At Taylor Kinney
REUTERS
Ever since Lady Gaga released her lead single "Perfect Illusion" earlier this month, many fans have been wondering if the track was taking aim at her former fiancé Taylor Kinney.
Lady Gaga seems to be adamant about clearing the air when it comes to the speculation behind the song's purpose.
In a recent interview with Andy Cohen on SiriusXM, the 30-year-old star said,
'Perfect Illusion,' 'Is it about Taylor?' is what everyone's wondering.
Even Gaga knows rumors are swirling that her latest record, co-produced alongside Kevin Parker and Mark Ronson, is about actor Taylor Kinney, and it's keeping her loyal "Monsters" awake at night.
Gaga continued,
I love Taylor so, so much and this song is not a hit out against Taylor. He's my best friend. This song is just about, I'm sure not only feelings that I've had but that he's had, that my friends have had, that my sister has in her relationship. It's a record about all of us, you know? And I would never use my song or want to use the public to hurt anyone that I love so much.
That makes perfect sense... I guess this means the song's title is even more fitting now. "Perfect Illusion," get it?!
According to Entertainment Tonight, Gaga and Kinney called off their engagement and ended their relationship on good terms.
After Cohen asked if they had "beautifully consciously uncoupled," Gaga explained,
I don't know if I would even say it that way. I don't think we've un- anything. We're just two people figuring it out.
You hear that, people?! They're just figuring it out -- nothing more, nothing less.
Listen to Lady Gaga's full interview with Andy Cohen below.
So, now that we know Gaga's new track WASN'T calling out 35-year-old Kinney, what was it really about?
In a past interview with Elvis Duran and The Morning Show on New York's Z100, Lady Gaga said,
With 'Perfect Illusion,' I think some of the way you can understand how it feels maybe to be me trying to be human and also being a star, it's so weird to say that, is that I am a perfect illusion to so many people. The truth is that it's very hard for me to have a human connection with others that I don't know because they feel that they're looking at an image that somehow belongs to the world.
Ah, see, now THAT makes sense.
After all, Gaga's music has always touched on fame and how her rise to pop royalty has changed her life forever. It isn't hard to believe these lyrics are about her experience thus far.
Tryin' to get control, Pressure's takin' its toll Stuck in the middle zone, I just want you alone
Still, it isn't hard to see why people might have thought "Perfect Illusion" was about Taylor Kinney.
It wasn't love, it wasn't love It was a perfect illusion Mistaken for love, it wasn't love It was a perfect illusion You were a perfect illusion
We'll take your word for it, Gaga!
Citations: Lady Gaga Reveals Whether 'Perfect Illusion' Was Written About Taylor Kinney (Entertainment Tonight)