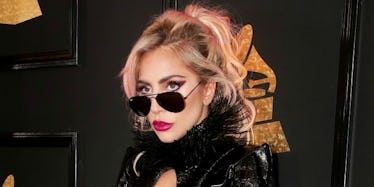 Lady Gaga Once Got A Horse For Her Birthday And It Taught Her To Be "Fearless"
Getty Images/Christopher Polk
Lady Gaga is a person of many layers. Honestly, very few things she says and does surprise me. I like the fact that she puts herself out there with no apologies. However, Gaga dishing about one of her favorite hobbies had me doing a double-take. She is an avid horseback rider and absolutely adores horses. I'm not exactly sure why I found this so surprising. It's so easy to imagine Gaga all picturesque riding a horse through a flowery field, but I guess the lack of photo evidence is what startled me. Lady Gaga's horses are very dear to her, and it's surprising how she received them.
During an interview with V, the Joanne singer opened up about a lot of things — including who gifted her a horse. She actually received her mare, Arabella, as a birthday gift from her record label.
I had never taken a horse-riding lesson. I literally did not know how to ride a horse. But I just grabbed her by the mane and rode her bareback.
I'm not much of a horse person, I think they're terrifying animals, but apparently riding bareback is extremely difficult. Major props to Gaga on that one. She loved Arabella so much, it inspired her to get a stallion named Tigger (aka Arabella's boyfriend). Gaga explained how riding has taught her about her own power and bravery in life.
With him, I have to ride with a saddle. When I ride him, it always makes me feel so powerful, because he is so powerful. There's no pressure. I just get on the horse and go. It's sort of a metaphor for all the guys I've been with. Riding has forced me to be fearless pretty quickly. It's all about down here in that woman area. Balance, strength, persistence.
Gaga is absolutely fearless. Whether she's speaking out about politics or fiercely defending fellow artists — don't mess with her.
If horseback riding is what gives her strength, then she should keep doing it. Honestly, I bet Lady Gaga looks fancy AF horseback riding. What more hobbies will she reveal? I guess we'll have to wait and see.