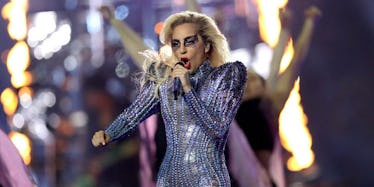 Lady Gaga Calls Out Trump's Trans Military Ban On Twitter And Fans Are With Her
Ronald Martinez/Getty Images
Trump banned transgender Americans from serving in the military on Wednesday, July 26. After the announcement, celebrities have been reacting to the trans military ban news and expressing their support for transgender people, and Lady Gaga joined in. In a series of impactful tweets, Lady Gaga calls out Trump's trans military ban, citing the mental health struggles trans Americans go through and how this ban will hurt them.
The tweets put Trump on blast asking him if he knows that a large percentage of trans people ages 18 to 24 have attempted suicide at some point in their lives. She also notes that a large number of trans students/young adults rarely discuss their mental health issues with anyone, and this ban will do nothing to help them on that front, since Trump called them a "burden" to the military. They are not a burden.
The tweets read,
The message you have just sent has endangered the lives of people all over the United States and overseas bravely serving our nation @POTUS .@Potus Research says at least 1/2 of High School, University Students, & Employed Young People rarely/never discuss mental issues w/ anyone Many of these young people are transgender & suffer daily from the exact types of social isolation & targeting ur message encourages @POTUS . @POTUS Sincerely, did you know of the group you singled out today, 45% of them ages (18 to 24) have attempted suicide already? https://twitter.com/ladygaga/status/890318373007052800 https://twitter.com/ladygaga/status/890320370259177473 https://twitter.com/ladygaga/status/890322935898140672 https://twitter.com/ladygaga/status/890325967595606017 https://twitter.com/ladygaga/status/890332297966366721 Within the Trans Community are many also who are strong & brave. They should be able to serve if they wish. To have honor if they do @POTUS
YAS, GAGA! FIX US WITH YOUR LOVE! Or at least run for senate or something. God knows we need more people like you in there. Fans were here for it when Lady Gaga called Trump out on Twitter.
Gaga is one of the many celebrities to call Trump out on this discriminatory ban. In fact, just about everyone had something to say about it, including late-night hosts, of course. James Corden created a song called "L-G-B-T" (it's a spinoff of the song "L-O-V-E") and performed it on The Late Late Show last night.
In the video, Corden sings,
L he doesn't care for Lesbians. G he thinks two men should just be friends, B to his dumb knowledge is just a phase in college, T he finds confusing so the army is now refusing Trans women who only want to serve, Trans men who want rights we all deserve.
Political satire will fix us with its love, as will Lady Gaga.