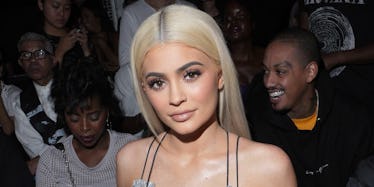 Kylie Jenner Casually Stripped Down To Her Underwear For A Sexy Instagram
REX/Shutterstock
Another day, another Kardashian partially nude on the internet — but I don't hear you complaining.
This weekend it was Kylie Jenner's turn.
She stripped down to her panties and took a sexy snap of herself in the bathroom mirror.
SO MUCH MARBLE.
Also, can we talk about that shower, please? Walk-in AND a seat. Whoever said money can't buy you happiness lied to your face, because I'd be pretty darn happy soaping up my bod in that king-sized bathroom.
Kylie posted the pic on Saturday with the caption saying, simply, "Morning."
Obviously, it got more than 2 million likes.
The youngest member of the Kardashian clan is still doing her thing on social media, unlike her sister Kim who, in case you missed it, was the victim of a terrifying gunpoint robbery.
The thieves made off with jewelry worth millions of dollars.
It was all quiet on the social media front until Kim finally tweeted an emotional message to her fans.
The 37-year-old uploaded a photo of a passage from a devotional book called "Jesus Calling"  along with an emoji of praying hands.
Part of the passage reads,
Remember that joy is not dependent on your circumstances. Some of the world's most miserable people are those whose circumstances seem the most enviable. People who reach the top of the ladder career-wise are often surprised to find emptiness awaiting them. True Joy is a by-product of living in My Presence. Therefore you can experience it in palaces, in prisons … anywhere.
Since then, she's vowed to take a month or so off from her Instagram, Snapchat and Twitter.
But according to celebrity financial adviser Samuel Rad, this move could literally cause her to lose around $1 million.
He said,
[Kim's] overall brand is generating at least $1 million a month through just general posts, not including anything that's specifically being contracted with companies.
Come back soon, Kim. The internet is a dark place without you.