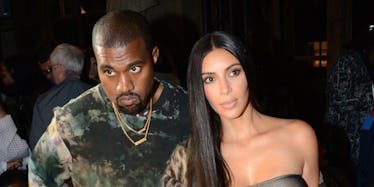 Kim K's Robbers Found Her By Asking Concierge: 'Where's The Rapper's Wife?'
REX/Shutterstock
The news surrounding the Kim Kardashian robbery in Paris just keeps getting crazier and crazier.
French news outlet BFM TV is reporting that five men held Kim Kardashian at gunpoint during a robbery in Paris. While those details aren't actually "new," the fact that they reportedly asked about Kanye West is.
The report states that Kim was approached by five men believed to be European and ages 40 to 50.
After intruding the hotel where Kim Kardashian was staying, the men apparently came face-to-face with the concierge first and literally asked in French, "Where's the rapper's wife?"
That's right, it seems like these assailants had no clue they were robbing the woman we know as Kim Kardashian. Instead, to them, they were just robbing "the rapper's wife." Um, I guess Kanye's a pretty big deal in France?
Armed robbers then allegedly brought the concierge to Kim's door where things got messy after the men stormed her room.
One of them proceeded to tie Kim up while another searched the space for jewelry. Kim, who was severely shaken up after the robbery, feared she might be raped. The report states that the star's jewelry was out in the open on a table.
Once the men found what they wanted, they reportedly left the scene on bicycles. REAL TOUGH, losers!
That's when Kim broke out of whatever she was tied up with and frantically called her lead security guard Pascal Duvier, who had been out overseeing Kourtney Kardashian and Kendall Jenner.
BFM TV also stated that the whole ordeal seemed to be the work of professionals. A source spoke to People magazine regarding the incident, revealing,
It was a very well coordinated robbery. It will take time to investigate. It's a very complicated affair.
Sounds complicated to me. It ALSO sounds a lot like these guys are not Kanye West fans.
I mean, this is no laughing matter but, personally, the whole "where's the rapper's wife" thing sounds pretty vengeful to me.
As of now, Kim Kardashian is back in Los Angeles after fleeing Paris following the robbery. She first went to New York City before hopping on a private jet with her mom Kris Jenner as well as North and Saint West.
An inside source spoke to People regarding Kim's state of mind, saying,
Kim is happy to return home with the kids. Kanye is coming back to LA and then resuming his tour tomorrow while his family stays in LA.
Hopefully, the French police will catch these guys.
Let's just be glad Kim's back home in one piece. In the meantime, I'll be waiting on Kanye to drop a diss track calling out the scumbag jewelry thieves.
Citations: Kim Kardashian West's Robbers Allegedly Demanded 'Where's the Rapper's Wife?' During Break In (People)