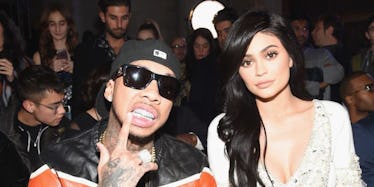 People Think Tyga Is Throwing Shade At Kylie Jenner In His Latest Song
Dimitrios Kambouris/Getty Images for Philipp Plein
OK, woah.
I came here to talk to you about Tyga's new song "Playboy" and how it maybe (definitely) is throwing shade at his ex, Kylie Jenner, but I almost can't get past some of the insane lyrics this man laid down on the track.
They are NSFW and I feel weird typing them, so you might just have to listen for yourself... with headphones on... in a quiet room, alone.
LISTEN WITH DISCRETION.
Everyone OK?
The lyric everybody is freaking out over is, "Super freak in my passenger / She a superstar and got it bad for me," which, yeah, could be directed at Kylie, but wait until you hear the next part: "If I hang up she call right back to me / You cut her legs off she crawl right back to me."
THOUGHTS, COMMENTS, QUESTIONS, CONCERNS, ANYONE?!
The whole song is basically about how Tyga thinks he's the best in bed out of every man in the whole world, and also how many pretty women he can get to drive him to a liquor store.
People on Twitter seem to be making the connection.
Kylie, from me to you, don't sweat this one.
Not that she would. Kylie has been out and about with new beau Travis Scott, showing all kinds of PDA and probably not thinking about Tyga or his "Playboy" tenacity at all.
Older sister Kim Kardashian even confirmed on Watch What Happens Live the breakup was "so easy" for Kylie, and that – despite all the rumored drama – there hasn't actually been that much, well, drama.
Listen, despite popular belief, I'm not really a rapper.
I'm not here to tell anyone how to do their job. I'm just saying it feels like Tyga is trying a little too hard to prove a point that no one really needs him to prove.
We know our girl Kylie is going to be just fine.
Citations: Tyga Is Almost Definitely Subtweeting Kylie Jenner In His New Song (Cosmopolitan)