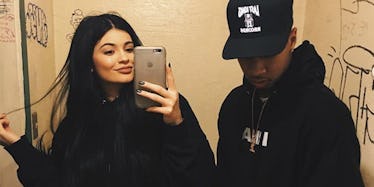 Kylie Jenner's Pop-Up Store Plays Sexual Videos Of Her And Tyga On A Loop
Instagram
December 9 marks the day Kylie Jenner opened up her very first pop-up shop for Kylie Cosmetics.
If you haven't had the chance to venture over to Topanga Westfield Mall in Canoga Park, California, you're missing out on a lot.
After months and months of promoting the grand opening of her new pop-up shop at the mall she frequently visited as a child, Kylie's finally ready to show off her retail masterpiece.
Let's just say she's got A LOT to offer her customers.
First off, Kylie Jenner has an entire "rainbow wall" of lip kits on display at the store. Do you know what that's going to do to all of the makeup connoisseurs out there? But wait, there's more...
Kylie Jenner hired a DJ to keep the good vibes going all day long.
As expected, the 19-year-old star wouldn't leave her fans hanging. She showed up to greet them in person.
Kris Jenner was there, too.
What's a grand opening without your BFF?! Kylie brought her best friend Jordyn Woods along for the fun.
The icing on the cake? She has super sexual videos of her and Tyga on loop.
I'm sorry... I thought this was a makeup store?
Well, I guess it still is, but if I were in the store, I'd feel like I was awkwardly standing in Kylie's bedroom while she climbs all over Tyga.
*shivers*
Still, this can't be as bad as the time Kylie flooded Instagram with "sexy love photography" of her and Tyga in honor of his 27th birthday... Remember this?
Yeah, I think we'll just barely be able to handle these damn near soft-core porn videos playing in Kylie's store.
All jokes aside, it looks like Kylie's pop-up shop was a success. Hopefully, this will inspire her loyal fans of all ages to start their own companies and take their dreams to the next level one step at a time!