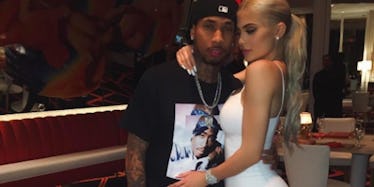 Kylie Jenner And Tyga's Sexual Calendar Will Keep You Grossed Out All Year
Instagram
Being single during cuffing season is like being on antibiotics during Mardi Gras.
You're the only one staying sober as you watch your couple friends, drunk in love, doing a bunch of embarrassing shit they'll regret when the party is over.
Kylie Jenner and boyfriend Tyga are this week's worst cuffing season offenders.
What seemed like a few cringe-y Instagram posts of the two topless in a couple's photo shoot are actually a smaller part of a much cringe-ier body of work.
Kylie celebrated Tyga's 27th birthday by sharing the pics earlier this week, and a source has since revealed to Us Weekly the photos were shot as part of a "secret project," aka a calendar of sexy love photography.
OH YEAH, THAT'S RIGHT. Kylie and Tyga planned a sensual photo shoot for the express purpose of creating a calendar of themselves to, IDK, pencil in her Lip Kit launches?
Forgetting for a moment the fact no one uses a physical paper calendar anymore, this is one of those key couple moments friends have to talk you out of when you're in too deep.
If I sat down at brunch one Sunday and said, "IDK Jasmine, I've been with Ben for a while now and I think we're at that point where we're ready to take a bunch of partially nude pics of us on the Venice Beach ferris wheel so we can, you know, get them screen printed onto a set of decorative mugs," I'd want Jasmine to slap the beignet out of my hand and talk some sense into me.
Listen, there's a chance Kylie and Tyga will look back on this calendar years from now and remain touched by the notion March 2017 is forever memorialized by a pic of him romantically motor boating her in what looks like the corner of a cell in Guantanamo.
The more likely scenario, though, is mild regret and a good laugh at their own expense.
In this year's October/November issue of Complex, Kylie called Tyga her "first real, mature relationship," and sister Khloé praised the rapper and the reality star for not caring what critics think.
Koko told the site,
Kylie has to deal with all these responsibilities, but no one wants to treat her as an [adult] when it comes to relationships. But I love that T and Kylie didn't care. They just did what made them happy. They're so in love, and I think they're cute together.
Ah, fuck it. Love is dumb and great. If they want to make a calendar, let 'em make a calendar.
Citations: http://www.usmagazine.com/celebrity-news/news/kylie-jenner-and-tyga-worked-on-a-secret-project-together-w451810 (Us Weekly)