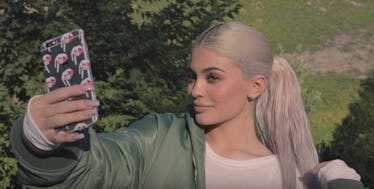 Kylie Jenner Reveals What She Always Does To Get The Ultimate Selfie
YouTube
Ever wonder how Kylie Jenner is able to snap the perfect selfie just about any time she picks up her phone?
I'm sure her strategy begins and ends with being, well, Kylie Jenner, but there HAS to be a few other selfie-taking guidelines and principles she keeps in mind to ensure a flawless digital self-portrait.
After all, wouldn't you perfect your selfie technique if you had 78 million Instagram followers?! Not to mention, Kylie visited the Snapchat headquarters to celebrate having the most-viewed Snapchat account back in August.
Kylie Jenner took to her official website and app to share her selfie secrets with the world.
A new video clip's description reads,
Wanna know my secrets to being a social media master? Trust me, they're the keys to success!
While hanging out with sister Khloé Kardashian, the 19-year-old star then goes on to talk about how sunset lighting is an incredibly important part of mastering the art of the selfie.
It is then revealed that Kylie Jenner actually has her own Instagram manager (of course).
At one point during the clip, while she was looking through Kylie's camera roll, Khloé asked,
Who takes all those for you?
Kylie then spilled the beans on her ultimate selfie-taking secret, saying,
Victoria! She's my Instagram manager.
Yeah, I'm sure that has A LOT to do with it! Still, there are a bunch of other tips and secrets you can implement without having your own designated Instagram manager.
Throughout the clip, Kylie talks about her favorite angle and how she preps her hair and her lips to capture the perfect shot. She also mentions that while photo editing plays a big role, it's best not to "go too crazy" on the filters.
Kylie added,
I feel like people want to see my whole outfit, so I'll have my friends just take full body pictures of me in my backyard and then you have to edit them! Don't go too crazy [with editing], but it's important.
Man, she knows ALL there is to know about this whole selfie thing, doesn't she? Ha! Maybe this explains why some people are still averaging a measly ten likes on their selfies.
It's safe to say no one's fucking with Kylie's selfie game... Well, maybe just one person. I believe her her name is Kim Kardashian. Didn't she somehow manage to snap over 6,000 selfies in one day while vacationing in Mexico?
Check out the clip above.
Citations: Kylie Jenner Reveals Her Secret to Snapping the Perfect Selfie (US Magazine)