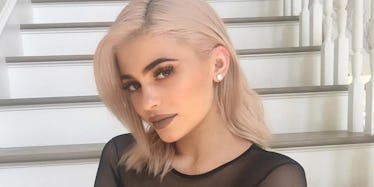 Kylie Jenner Embraces Inner Stepmom, Posts Cute Pic With Tyga And Chyna's Son
Instagram
So…
*swings arms back and forth*
...everybody cool, then?
*claps*
OK, great! Cool… this… feels great.
*slowly walks toward the door*
Everbody's great. That's great.
*walks through the door*
We're all family, here.
*closes the door 90 percent of the way*
Just hanging out.
*pops head through the last sliver of doorway*
Cool.
*pops out, shuts the door*
Everything is normal and everyone is cozy in the 20-carat spiderweb of Kardashian/Jenner siblings and their past and present lovers.
As Rob Kardashian and fiancé Blac Chyna prepare for the birth of their baby, Kylie Jenner spent some time with her man Tyga's son (whom he welcomed with Chyna in 2012), King Cairo.
The reality star posted a pic of herself beside King on Snapchat Wednesday, proving Chyna trusts her future sister-in-law to look after her son.
Kylie also shared a snap with Tyga, allowing us all to imagine a future in which Kylie is King's stepmom AND his aunt, technically.
Let's face it, though: Ky and Ty are still years away from starting a family of their own.
Luckily, the tension between Kylie and Tyga's ex, Chyna, ceased months ago when things got serious -- like, pregnancy, engagement, on-and-off cohabitation serious -- between Chy and Rob.
Awkward moments still occur among the foursome, despite efforts from all parties involved to keep things cool and casual and so, so cool and, wait, did we say casual? SO casual.
Familial bonds aren't forged immediately. This is a crew with a complicated history and a constant rotation of low-stakes drama to tend to, no matter how often they claim to be chill.
Decades from now, when the couples' future children are grown and Kris Jenner's body waits, frozen in carbonite, for her second coming, the days of awkwardly hugging at Khloé's 30th birthday party or obsessing over Chyna's perceived emoji diss will be but a distant memory.
Until then, let us all distract ourselves with snaps of Kylie Lip Kit swatches.
Yeah, that's the stuff.
Citations: Kylie Jenner Shares Rare Photo With Boyfriend Tyga's Son, King Cairo (Us Weekly)