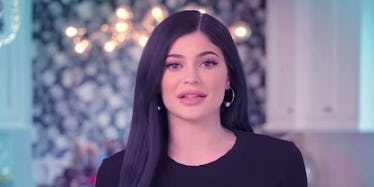 Kylie Jenner Gives Episode Details For 'Life Of Kylie' On Twitter
YouTube/E!
On August 6, 2017 we will officially have access to the show we always knew we wanted and, yeah, definitely needed.
Life of Kylie will air on E! (of course), and promises to give viewers exclusive access into Kylie's everyday life. According to the show's trailer, "When you grow up on camera everybody feels like they know you, but they don't," and Jenner calls the mini-series "a gift to the fans."
If it's anything like Keeping Up With The Kardashians, topics fans want to know most about (Tyga/Chyna drama, anyone?) will probably be quickly swept over. But also, if it's anything like KUWTK, I'll probably be catching every episode.
Of course, since the announcement of the show happened back in May, fans have been treating it like the gift Kylie told them it is, and have been hanging on to her every word -- in hopes of getting more sneak peaks before the August premiere date.
Lucky for us, King Kylie went on Twitter today and shared the hashtag, #LifeOfKylie to give fans an opportunity to ask questions about the series.
Kylie began by answering cute fan questions, like where the hell Normie will be during all of this.
But she quickly got to the good stuff because like any true Kardashian-Jenner, she knows how to give the people what they want.
OK, Jordyn, check.
But she finally revealed the most important answer: how many episodes will actually air.
Ahh! Eight episodes! I mean, that's practically an entire season's worth, right? Thankfully this won't go up on Netflix, which means we can make the new episodes last all summer because, well, we'll have to.
Kylie is very strict on calling the project a "documentary" instead of a reality show.
Kylie also revealed that each episode will be 30 minutes long because she wanted them "short and sweet and full of excitement."
Someone also asked if she'll be talking about Kylie Cosmetics, but like, OBVIOUSLY! Do you think any Kardashian-Jenner move is ever made without the intention of product promotion and/or money making? Hey, there's literally no shame in that. I wish I had a momager.
A Kylie docu-series is highly anticipated, not just because everything she touches turns to gold (or matte?), but because people want to see more of this total #girlboss, and KUWTK has been keeping her in the shadows for way too long.
August 6 is just around the corner, and I can't wait to slather on my Kourt K and munch on pomegranate seeds (True Kylie fans will understand!) in celebration of the premiere.
We are not worthy.