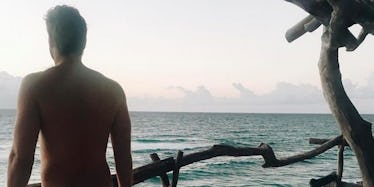 Kristin Cavallari Posted A Pic Of Jay Cutler Completely Naked On Instagram
Instagram
Jay Cutler certainly seems to be enjoying his time away from the football field.
He and his wife, Kristin Cavallari, set off on a tropical vacation in Mexico after it was announced the Chicago Bears released him from his contract, and Kristin made sure we all got to enjoy the view... and then some.
Clearly the superstar couple didn't have to worry about overpacking for the trip — Kristin shared an intimate photo of her hubby completely nude looking out over the sea.
Jay Cutler may be a quarterback, but he definitely looks much more like a tight end in this photo. Check it out.
Weirdly, Kristin accompanied the nude photo with what looks like a quote attributed to former Detroit Lions tight end Tony Scheffler.
I guess he said that little maxim about tan lines and the sea to Kristin once and she liked it so much she always remembered it? I mean, it's either that or he's sitting right next to her and admiring Jay's butt, too.
And Kristin came prepared in case Instagram winds up getting removed (oh, those pesky nudity guidelines). Immediately after uploading the skimpy pic of her husband, she posted a shot of the ocean, and wrote she wants to remember the view "in case [her] last post gets deleted."
The couple has clearly been really enjoying soaking up the sun on their beachy vacay in Tulum, Mexico. Kristin has been posting a bunch of photos of herself and Jay lounging around on the gorgeous beach.
I guess now that Jay Cutler is a free agent, he can finally relax with his wife for as long as they want.
Just a couple of weeks ago, the Chicago Bears shocked their fans by letting go of Cutler, who has been the team's star quarterback for seven years.
This marks the first time Cutler has been a free agent. The only other time he was between professional teams was when the Denver Broncos traded him to the Bears in 2009.
There's still a possibility Jay Cutler could get picked up by another team, or he might wind up out of the NFL for good. Either way, it sure looks like he and his wife aren't worried about a thing right now.