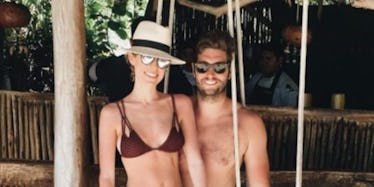 Kristin Cavallari Responds To People Saying She Looks Pregnant In New Instagram
Instagram
Kristin Cavallari really wants you to know she's not pregnant.
While you spent your weekend blacking out and making regrettable decisions, Kristin Cavallari took a lovely little beach vacation with her husband, Jay Cutler.
The 30-year-old Cavallari posted a photo to Instagram, in which she's holding a bike on the beach.
However, in the photo, Cavallari is also holding her stomach, which prompted some folks on Instagram to immediately assume the actress is pregnant with her third child.
To caption the above photo, Cavallari wrote,
Crusin' JC. Not sure why it looks like I'm holding a pregnant belly... wind was blowing and I was trying to hold down my romper.
God, people, get a grip! It was windy! The woman was trying to hold down her dress and keep her integrity and class!
In case you're still doubting Kristin Cavallari's assertion she's NOT pregnant, you might want to check out this other photo the 30-year-old posted to Instagram.
Cavallari is reportedly on vacation with Jay Cutler in Tulum, Mexico.
Despite Cavallari's caption, some on Instagram didn't let up with the pregnancy rumors.
One Instagram user wrote,
Asking someone if they are pregnant is not rude, especially if more than one person thinks the same thing! Kristin looks very fit and is beautiful maybe we are hoping that she would be pregnant because she and her husband have beautiful kids together! I don't get why people get so defensive.
You'll recall, this is actually the second time in about two months Kristin Cavallari has had to defend herself and her family on Instagram.
The 30-year-old posted a photo on Instagram of herself and Cutler on a previous beach vacation in Mexico, which prompted some on social media to fat-shame the former Chicago Bears quarterback.
Kristin Cavallari previously stated in an interview with People she has no problem with people coming after her on social media, but she will not allow anyone to trifle with her family.
She said,
I've been dealing with criticism since I was 17. When it's me, I can handle it, I can take it. I have thick skin. When it's about my kids or my husband, I get really defensive. And then I become a little fighter, and I've been known to get a little trigger-happy sometimes.
Some folks really need to figure it out.
Citations: Kristin Cavallari Addresses Pregnancy Rumors (Refinery29)