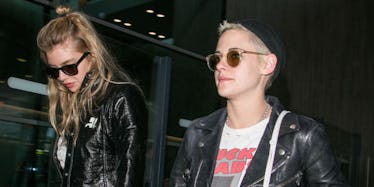 Kristen Stewart & Stella Maxwell Crashed A Wedding, Become Coolest Couple Ever
Marc Piasecki/Getty Images
Talk about a happily ever after. For one lucky couple, their wedding was blessed by the celebrity gods. Kristen Stewart and Stella Maxwell crashed a wedding in Canada this past Saturday, and took some killer photos while they were at it. Also, just for fun and because the universe is awesome, it happened to be two women getting married, as well.
The brides, Kirsten and Kayleigh Jennings, were having their wedding reception in Winnipeg, Canada, at a restaurant called Pizzeria Gusto, when Stewart and Maxwell happened to be there wining and dining somewhere else in the establishment.
Jennings told CBC News,
The owner came up to me, and he said, 'Hey, is it OK if Kristen Stewart and her girlfriend Stella [Maxwell] come and have a few drinks with you guys?... I was like, 'Yeah, totally! Yeah, no problem. Um, who is that?'
Oh well. Alls well that ends with awesome photos, I guess. Apparently, the famous couple first kept to the patio, but Kirsten and Kayleigh eventually convinced them to come dance with the party and rock out to some Beastie Boy songs.
Jennings told Buzzfeed News,
They kind of blended in seamlessly... It was a really, really, really fun night. They weren't the center of attention; they didn't take over the party at all. They just kind of melded.
Ugh, they so would meld. Look. Look at all the melding going on.
Apparently, Stewart and Maxwell ended up sticking around until the wee hours of the morning, because duh. TBH, these are some pretty chill brides being open to celebrities crashing their big day. However, if it had to be any celebs, might as well make it these two low-key babes.
Kirsten said,
There were only a few people who were star-struck. My Aunt Linda was extremely excited.
Aunt Linda, girl, we feel you. Apparently, the brides' friend Rob stole the show when he was dancing with Stewart's blazer on his head.
"He said, 'I loved you in Harry Potter,' then threw the blazer in her face and walked away," Kirsten said.
Sounds like a night to remember to me. Congratulations to the happy, beautiful couple!