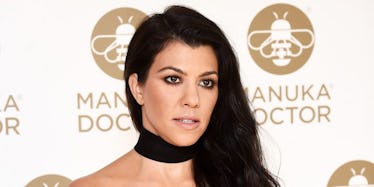 People Are Pissed At Kourtney Kardashian For This Pic Of Her Kids On Instagram
REX/Shutterstock
Kourtney Kardashian is getting flack for posting a photo of her kids on her car on Instagram, because some people really do have nothing better to do.
Here's what happened: Over the weekend, Kourtney K was having some fun with her two youngest kids, 4-year-old Penelope and 2-year-old Reign Aston Disick.
(I guess, at the age of 7, Mason Dash Disick was too old to join the fun.)
And, being a trendy mom who also happens to have millions of followers, Kourtney posted photos of said fun-having on her Instagram page.
Kourtney captioned one of the photos, "Rolling into the weekend like..." and the other as, "Mayonnaise-colored Benz, I push Miracle Whips." (The latter are lyrics from Kanye West's song, "Last Call.")
Scott Disick also captured the cute moment, and posted a similar photo of his son to his Instagram.
Scott wrote in his caption, "Little monster."
As you can see in all of these pictures, the car is definitely not moving, and Penelope and Reign look perfectly happy and safe.
Yes, that is a very expensive Mercedes G-Wagon. True, it is kind of a douche-y photo/caption combination. But what more can you expect from the Kardashians?
But a quick look at the comments section on Kourtney's photos reveal that a lot of people had a distinctly less chill attitude about this.
A few people pointed out that posting pictures of your cars is a pretty normal thing to do, and not at all "asking for it."
But most people... did not do that.
Always a great day for victim shaming, am I right?
Yes, it's true that one of the things stolen from Kim Kardashian back in October was her $4 million engagement ring, which she had posted a picture of on her Instagram.
But the only people at "fault" for Kim's robbery are the 17 arrested suspects who robbed her.
Same goes for Kourtney. So no more of this nonsense, ya hear?