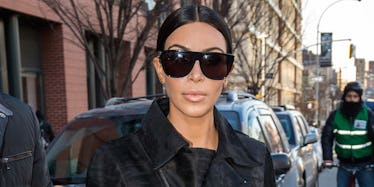 Kim Kardashian's Nipples Are On Full Display In Her Latest Vacation Pics
Shutterstock
The hottest fall trend for 2016? Nipples. Still nipples. From here on out, just assume it's always nipples.
Kim Kardashian West is joining sister Kendall Jenner in the Free Nip Kingdom these days judging by paparazzi photos of a legitimate photo shoot — I know, I know, Kimception — the reality star posed for in Punta Mita, Mexico.
Kimmy was visiting Joe Francis' Casa Aramara last week, Daily Mail reports, when she threw on some black mesh and said, "Fuck it, let's shoot this before we lose any more light!" or something like that, probably.
NSFW! Kim Kardashian flaunts her ample bust in a VERY sheer bathing suit https://t.co/t7ynY0pXi7 pic.twitter.com/df6ledWTdS — Daily Mail Celebrity (@DailyMailCeleb) August 24, 2016
The 35-year-old posed in several swimsuits and naturally had a sailboat and some loose palms on hand for props.
The Mexico candids reminded me of her Thailand beach shoot. Ready to see what these pics are for. pic.twitter.com/yO9GkDkIFc — KimKanyeKimYe (@KimKanyeKimYeFC) August 24, 2016
Between takes, she chilled with pal Jasmine Sanders, who is basically her official travel companion these days.
Kim and @golden_barbie in Punta Mita, Mexico last week pic.twitter.com/jnKH64vOWa — Was @KKWUpdatesㅤ (@KKWUpdates1) August 24, 2016
At what point do Kim's exposed nipples equal acceptably exposed nipples for all of us? Like, do we wait three days? A week? 'Til Christmas?
Forget it, I'm starting now.
Citations: PICTURE EXCLUSIVE: Here's looking at you, Kim! Kardashian puts ample bust on display with see-through crop top during beach holiday in Mexico Read more: http://www.dailymail.co.uk/tvshowbiz/article-3756985/Kim-Kardashian-puts-ample-bust-display-bikini-beach-holiday-Mexico.html#ixzz4IHcBRSh2 Follow us: @MailOnline on Twitter | DailyMail on Facebook (Daily Mail)