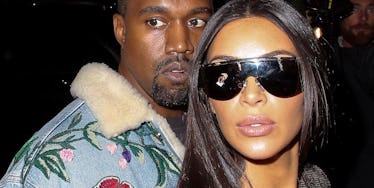 Kim Kardashian 'Has Zero Desire To Resume Her Old Life' After Paris Robbery
REX/Shutterstock
Kim Kardashian is continuing her absence from social media and the spotlight after experiencing a terrifying robbery in Paris two weeks ago.
The reality TV star was held at gunpoint by masked men who stole millions of dollars worth of jewelry from her.
Her sister Khloe Kardashian appeared on "Ellen" and informed the host that Kim is having a difficult time. She said that her sister is "not doing that well."
Recently, a source spoke to People about how Kim is coping. They said,
She has zero desire to resume her old life.
The source also says that Kim Kardashian is spending most of her time in her home in Los Angeles.
Kim's husband Kanye West is on his Saint Pablo tour, but often flies back in between shows to be with her.
When he is not home, Kim and her two children North, who is 3, and Saint, who is 10 months, stay with Kris Jenner.
The insider said,
Kim is still figuring out what she wants to do. She has no plans for any public appearances.
Recently, her assistant posted a letter on Kim's website saying that new content from Kim's friends and family will be coming shortly while Kim takes time off. It read,
hey group, so you may have noticed we haven't updated the app in a couple weeks Keeks is taking some much needed time off. But not to worry cuz We've called upon Kim's closest friends, fam & yours truly to serve up some exclusives Stay tuned for new posts and app takeovers!! thank you so much for your support for my girl Love you mean it! Steph Shep
Kim will turn 36 on Friday, but she plans to spend it very quietly. The source said,
She just wants to be with her kids and out of public. No one is pressuring her either. She has the best support from her family.
Another source says that she only leaves her home to go to her mother's house or to attend important appointments.
She also never goes anywhere without a bodyguard and now avoids pictures and fans.
The insider added,
Kim's whole life has basically changed. Before, she was like a social butterfly. Now she acts much more withdrawn.
While Kim's sisters have returned to social media, her accounts have yet to be updated.
Citations: Withdrawn' Kim Kardashian West 'Has Zero Desire to Resume Her Old Life' in Wake of Paris Holdup (People)